Love at first Sight is back!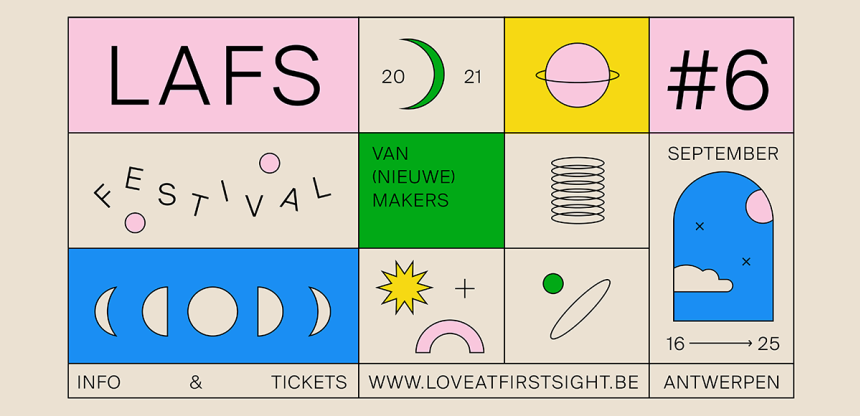 Love at first Sight is back, and the 4 selected projects from HANDLANGERS are also participating!
The sixth edition of the festival of (new) makers will take place from 16 to 25 September 2021 at various locations in the heart of Antwerp. Get to know this new generation of theater makers and let them touch your heart!
The full program will be announced on 17 August and tickets will be on sale from 20 August. Read more about the selected projects from HANDLANGERS via dehandlangers.be.
About LAFS#6: "It won't be a 'best of', but a series of projects that make our hearts beat faster. A mix of premieres and existing work that deserves playing opportunities and an audience. More than twenty performances to be discovered by as many makers. Theater in all its forms.Small and intimate, exciting, poetic and confrontational. A bomb of imagination in Antwerp, spread over the last two weekends of September. Every day different projects can be combined.
LAFS#6 is also a unique collaboration between ten Antwerp cultural partners who program young theater work in each other's homes. These Antwerp culture houses want to offer a platform to the latest generation of theater makers who are more than worth discovering. Especially now that their graduation projects have come about in difficult circumstances and they have hardly had any opportunity to show. And they deserve it: we are talking about a very strong generation of young artists, who together provide a surprising and heterogeneous stage culture, unique in Europe. With this sixth edition, we hope to prove that (again) abundantly. Completely corona-proof of course."
LAFS#6 is lovingly put together by a temporary alliance of these Antwerp cultural partners: De Studio, Kultuurfaktorij Monty, d e t h e a t e r m a k e r, Rataplan, Troubleyn, Zuidpool, hetpaleis, Kavka, wp Zimmer, deSingel, Trix and Toneelhuis.
New for the coming edition is a collaboration with Het Theaterfestival for young work, actively included in the LAFS program and communication, in the hope of exchanging audiences.