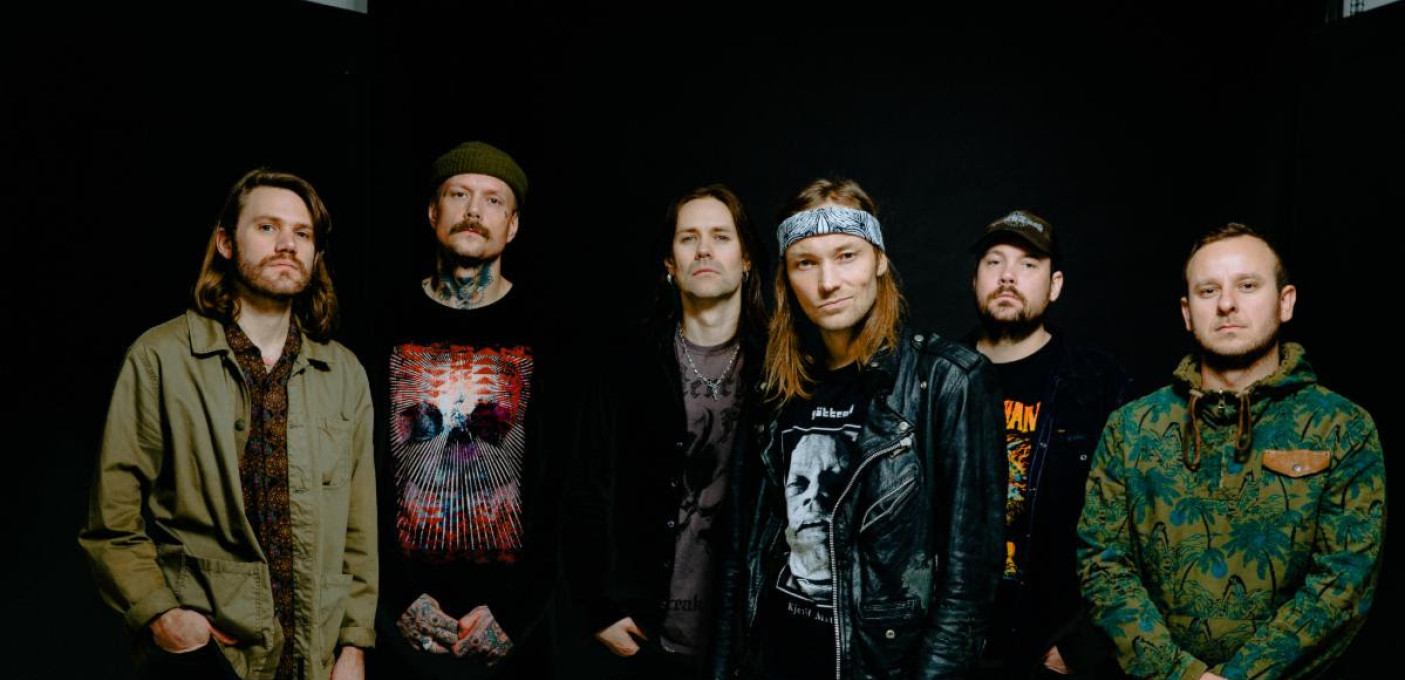 The Norwegians of Kvelertak bring a mixture of hardcore punk, rock 'n roll and fragments of black metal, aka black' n roll.
For fans of
Mastodon, Converge, Power Trip, Baroness, Oathbreaker, Cancer Bats
Kvelertak
Kvelertak are a Norwegian black n roll band from Stavanger, formed in 2007. The group comprises vocalist Ivar Nikolaisen, guitarists Vidar Landa, Bjarte Lund Rolland and Maciek Ofstad, bassist Marvin Nygaard and drummer Håvard Takle Ohr. Founding member and lead singer Erlend Hjelvik left the group in 2018, being replaced by Ivar Nikolaisen. Most of Kvelertak's songs have Norwegian lyrics, and their main influences are rock and roll and punk rock. The band's self-titled debut album was released in 2010 and sold more than 15,000 copies in Norway. The second album, Meir, was released in March 2013. The band's third studio album, titled Nattesferd, was released on May 13, 2016. Their fourth studio album, Splid, released on February 14th, 2020, their first with Ivar Nikolaisen on lead vocals. Kvelertak were formed in Stavanger, Norway in 2007. The band's name is the Norwegian for "stranglehold" or "chokehold". A demo, Westcoast Holocaust, was self-released that year. The band released their debut album, entitled Kvelertak, on June 21, 2010 via the Norwegian record label Indie Recordings, and on March 15 via The End Records in North America. The album was certified gold by IFPI in Norway for selling over 15,000 copies. In March 2011, Kvelertak were presented with two Spellemannprisen Awards, a prestigious Norwegian music award similar to the American Grammy Award—for Best Newcomer and Best Rock Band. The Kvelertak song "Mjød" was used as the end music for the film The Troll Hunter.
Read more on Last.fm. User-contributed text is available under the Creative Commons By-SA License; additional terms may apply.
Read More
Planet Of Zeus
Planet Of Zeus is a rock band from Athens, Greece formed in the year of 2000. Their music is a mixture of stoner rock, heavy metal with southern elements. Their are known for their full of energy live performances. Biography: When Babis and Yog decided that they could not express themselves within the bands they had played til then. Two years later the band was eventually established as a trio with J.V. on the bass. The band started giving high-energy live performances, playing with several greek bands in Athens and eventually allover Greece. In the summer of 2004 they decided that the time had come to stop fooling around and record their first demo CD called "Loop 430". The second recording of the band took place almost one year after "Loop 430". Two of the band's songs were included in the first two Spinalonga Records compilations "In the Junkyard vol.1 and 2". On July '06 Planet of Zeus finally started the recordings of their debut album which came to be Eleven the Hard Way. At the beginning of year 2007 a new member came on board. Yog grabbed the guitar and Serapheim G. took Yog's place behind the drums. In 2011 Planet of Zeus released their sophomore album entitled Macho Libre . Read more on Last.fm. User-contributed text is available under the Creative Commons By-SA License; additional terms may apply.
Read More
Blood Command
Blood Command is a post-hardcore/punk band from Bergen in Norway . The band was started in 2008 by Yngve Andersen (guitar, bass guitar and keyboard) from Jeroan Drive. He brought Silje Tombre on vocals and Sigurd Haakaas on drums. The band was one of the nominees for the Årets Urørt in 2010 and was nominated for the Spellemannprisen for best rock album (Ghostlocks) in 2011. The album also reached across borders; The single Cult of the New Beat was in rotation at BBC and the music magazine Rock Sound praised the band as "Band of the Week". In August 2011 Blood Command was support for the Canadian hardcore band Comeback Kid in Europe. In 2015, vocalist Silje Tombre was replaced with Karina Ljone. After some absence, Blood Command came back in 2017 with their album Cult Drugs which released on April 29, 2017. Facebook MySpace Official Website Read more on Last.fm. User-contributed text is available under the Creative Commons By-SA License; additional terms may apply.
Read More