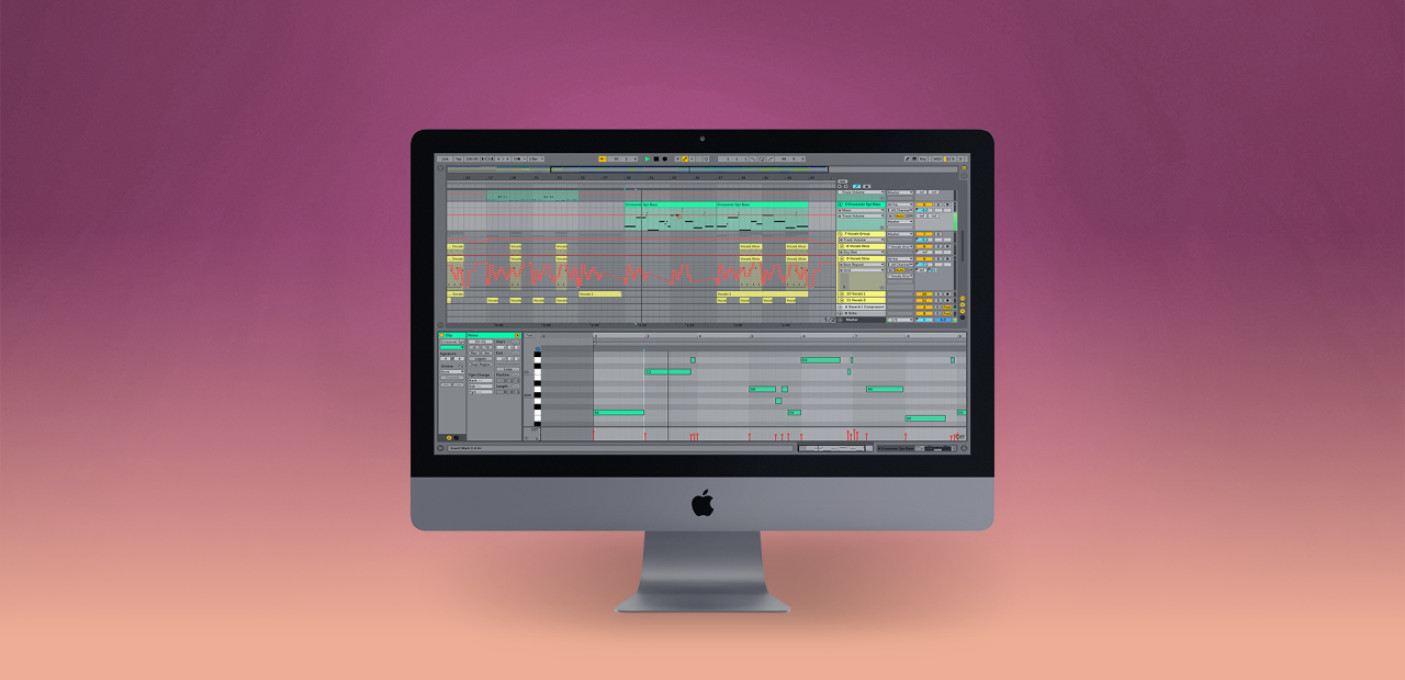 During this course we will focus on some important tools in Ableton.

Ableton Live 10 is an excellent production tool to create both live and in a studio electronic music. An intuitive interface, a broad collection of instruments, samples and effects: Ableton has it all and is therefor the favorite workstation of choice from artists such as Daft Punk, Diplo, M83, Flying Lotus and Armin Van Buuren.

During this course we are going to zoom in on some important tools within Ableton Live. You will be coached by a professional producer.

Determine your own sound
- What are virtual instruments?
- What are Instrument Racks?
- How do you work with Sampling?
- What is Modulation? What are Envelopes and LFO's?

Impulse
Impulse is a drum sampler with complex modulation possibilities. The eight drum samples that are available in the sample pads of Impulse, can be stretched, filtered and altered by unlimited modulation possibilities:
- Sample Slots
- Drum Kits
- Drum Samples aanpassen

Simpler / Sampler
Simpler is an instrument that integrates the basic elements of a sampler with a set of classic synthesizer parameters. But, unlike a conventional sampler, Simpler contains some unique functions of Ableton Live clips. Sampler is a sample instrument which fully uses Live's flexible audio engine. It is designed to process big sample libraries.

But creating music with Sampler music is only the beginning. The extended internal modulation system handles almost every aspect of sound and makes it a natural extension of Ableton Live sound shaping techniques.

Analog
Analog is a very important tool for sound design. Analog is a warm, fuzzy monster with a unique sound and accessibility of vintage, analog synthesizers. Analog's oscillators explore the whole spectrum from smooth pad sweeps to earth shaking bass sounds.
- What is Subtractieve Synthese?
- Oscillators and Noise
- Filters and Amp Envelopes
- LFO

Operator
Operator is a powerful and versatile instriment that gives you the possibility to add three different sythesis forms to your sound and productions: FM, subtractive and additive. Unlike analog synths, FM starts with a simple sinus tone which we will modulate to an eclectic sound system.
- What is FM Synthese?
- Interface Overview
- Algoritmes and Oscillators
- Oscillator Display

Wavetable
Wavetable is a synthesizer which combines two wavetable oscillators, two analog modelized filters and a powerful but intuitive modulation system. It is designed to be used by musicians and music producers with any level of synthesis experience; it is simple enough to deliver amazing results with a minimum of effort, but offers an almost unlimited range of possibilities at the same time.
- What is Wavetable Synthese?
- Matrix Tab

PRACTICAL INFO

When?
On Wednesday and Thursday evening 14, 15, 28 en 29 October, from 19h30 to 22h30
For whom?
Everyone who has knowledge of Ableton and is older than 15 year.
Teacher?
Pascal Oorts
Price?
€ 154 (service fees included).
15% discount if you are younger than 26 years old.

! Please note that this course is given in Dutch!