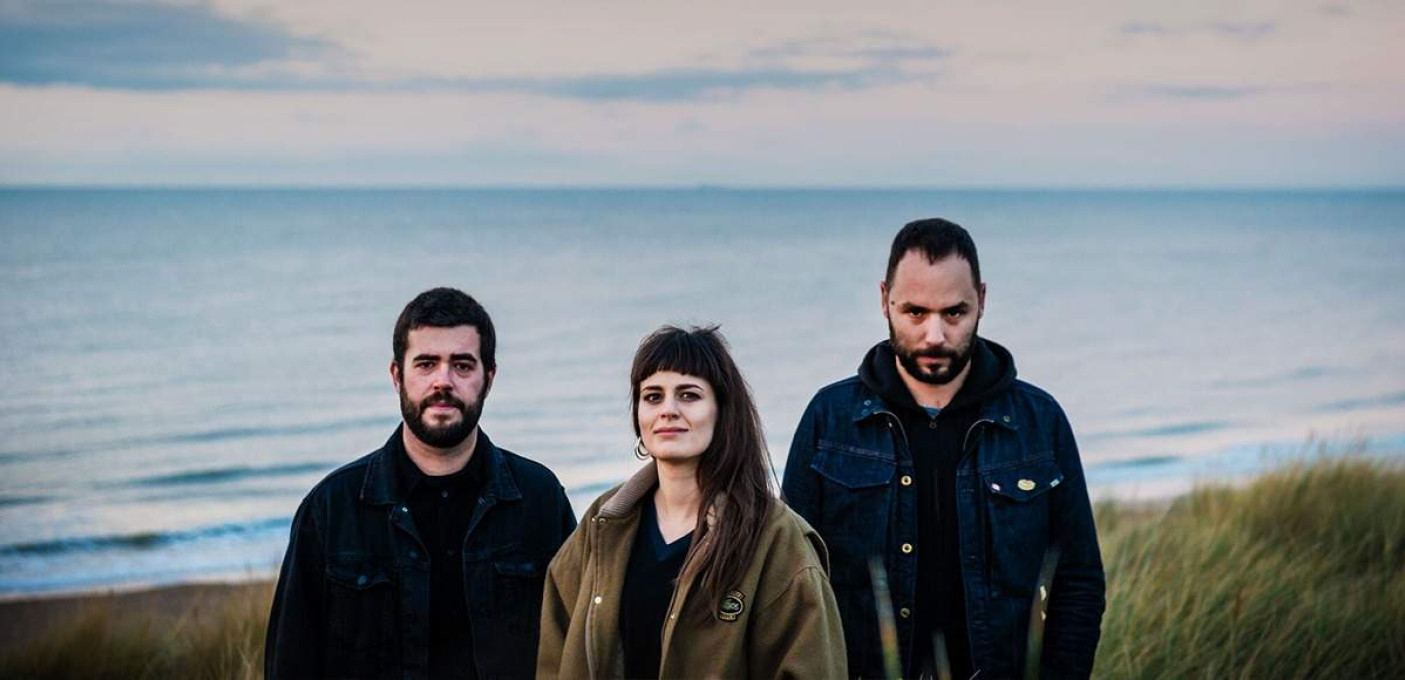 Post-rock construction, black metal dynamics, hardcore energy, prog and math-rock. Between Slayer and Savages.

TIMING
- 7.30 pm: doors open
- 8.00 pm: Go March
- 9.15 pm: Brutus (the expected end time is 10.15 pm)
- free aftershow after the Brutus concert with Psychonaut in the Trix Café, click here for more info
(this schedule is subjected to last minute changes)

For this sold out concert no extra Gate15 cultural vouchers (for Antwerp students) will be accepted.
BRUTUS be
There are at least five artists called Brutus: - 1, a postpunk/shoegaze band from Leuven, Belgium // www.wearebrutus.com Brutus is a power trio forged in Leuven (BE) early 2014. Brutus sparked, ignited and took off instantaneous. The sparks channeled into highly energetic, but always catchy tunes. From dissonant noise rock, to brutal metal structures to almost fragile guitar sounds, Brutus covers and masters a vast array of different styles. All these influences are seamlessly blended into their own distinct sound: freaky guitar tones and pounding bass lines that are kept in check by the tightest singing female drummer we have ever encountered. Brutus sounds colossal, Brutus sounds brutal. Brutus released a collection of three 7" inch records in the first months of 2015. The triptych kicked off by Major / Horde in Januari 2015, in a run of 333 copies housed in custom-made sleeves. The second vinyl, Horde II / Dancing on the face of a Panther has been released in April with a special Brutus Tattoo Store Day. And the final vinyl Fliflu / Bye Julia was released in July 2015. The band finished recording their debut-full-length Burst in Vancouver, Canada with producer / kindred spirit Jesse Gander. This made them popular in there homecountry and led to sold-out club shows in 2017. - 2, a hardcore band from Asturias, Spain. Formed in June 2008, Brutus gave their first show one month later. From then onwards Brutus has released a self-titled EP in July 2009, recorded at KTC Domestic Productions which was presented in numerous places, mainly in the north of Spain, sharing stage with bands like For the Glory or Avenues and Silhouettes. Brutus has announced that they will release a new work in February 2012. We don't know the title yet, but it is taken for granted that this new album will please all their fans. - 3, a butterfingered, groovy and psychedelic hard rock from Norway After countless evenings and nights in front of, and around, the bar counter. After long, fiery discussions about the first Sabbath-album, endless arguments over what the best work of Hendrix is, and how everything just sounded so much better before - these guys felt the time was right to take matters into their own hands. Three bearded swedes and two norwegians immediately started to deep-dive into their own private collections of LPs and thus the conception of a musical journey, unpreceded - ever before, or after, for that matter - was in process. One song soon turned into six and it all climaxed in a smokin' "California Jam" at Garage in Oslo. A concert that still is, to this day, remembered - and surely has gone into the history books following the excellent review it picked up in Eternal Terror Webzine. Thus, more is still to come from these true successors of the seventies - here, there and all across the country! Inspiration is drawn from amongst others: Blue Cheer, Cream, Pentagram and Grand Funk Railroad. In other words: butterfingered, groovy and psychedelic hard rock! So bring forth your bellbottoms and wide lapels....Rock N' Roll is lovely, isent it?! Contact: www.myspace.com/brutusband brutus@online.no - 4, a brutal death metal band from the Netherlands In 2000 the gruesome foursome was initiated by Ploegbaas (drums) and Bastærd (vox/guitars) to establish a rejuvenated brand of Hyper Agressive Deathmetal with an unearthly definition of 'heavy'. Soon after the initial rehearsals Molestrator (vox/bass) and Schoft (vox/guitars) joined to complete the first incarnation of the Steamroller. For every reason imaginable Molestrator was discharged and replaced by Ploert. With his vocal and bottom end eruptions the infamous Brutus Promo was unleashed in 2001 resulting in a recording agreement with Unique Leader Records. In 2002 the debut album Slachtbeest was recorded in Excess studios and upon its release Brutus embarked on an extensive European tour with Macabre and Cephalic Carnage. Soon after this endeavor, Bastærd announced his retirement from death metal. Meanwhile 'Slachtbeest' was getting killer reviews in the media worldwide. Bastaerd completed the set of gigs the band had before being replaced by Vlerk. In September of 2005 Brutus went on yet another European adventure, touring over three weeks with fellow Unique Leader artists Mortal Decay and Beheaded, as well as doing tons of local shows opening for the likes of Nile, Vader and Suffocation. When Brutus was in the middle of the recordings for the highly anticipated follow up Murwgebeukt/TotalLoss, Ploegbaas, who had been struggling with his inner demons, decided to end his time on earth. Since then the band has had a hard time getting to grips with the fact that the fuel had gushed from the machine. "We feel we've caught up with life and can finally keep our promise. The time to finish what we started has come...". Myspace - 5, czech big beat band official homepage Read more on Last.fm. User-contributed text is available under the Creative Commons By-SA License; additional terms may apply.
Read More