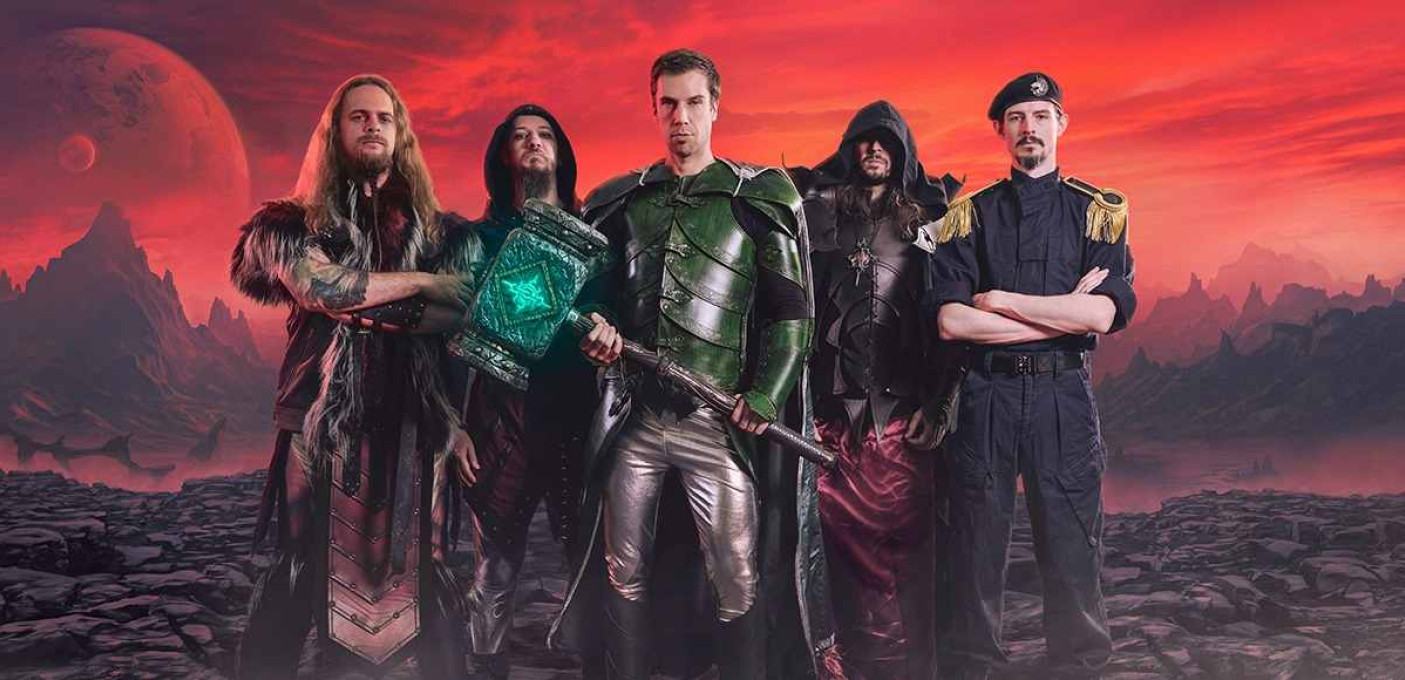 Top entertainment and power metal singalongs.

TIMING
/ 6u30pm: doors open
/ 7.00pm - 7.30pm: Wind Rose
/ 7.45pm - 8.30pm: Nekrogoblikon
/ 9.00pm - 10.30pm: Gloryhammer
(this schedule is subjected to last minute changes)

This concert is organized by Biebob.
For fans of
Alestorm, Twilight Force, Powerwolf, HammerFall, Rhapsody
Gloryhammer uk/ch
Scotland - A highland realm of mystery, wonder, and epic battles from an ancient time, shrouded by magical mists. A time of dragons and wizards, and enchanted weapons. These are the legends of the Kingdom of Fife, when the great hero Angus McFife waged an epic war against the evil wizard Zargothrax, to free the people of Dundee in the name of glory and steel. These are the legends of GLORYHAMMER! Now in the distant future of the year 1992...war has returned to the galaxy. One thousand years have passed since the brave hero Angus McFife defeated the evil sorcerer Zargothrax in the battle of Dunfermline, trapping the wizard in a frozen prison of liquid ice. But now, a cult of unholy chaos wizards are plotting to release their dark master from his ice-bound tomb and once again unleash the sorcerer Zargothrax upon the universe. The tragic destiny of the Galactic Empire of Fife now hangs in the balance once more... The 'Heroic Fantasy Power Metal' band GLORYHAMMER is the new project formed by Christopher Bowes, the mastermind behind pirate-metal sensation ALESTORM, with a desire to explore the more symphonic and epic side of metal. The band's debut album 'Tales from the Kingdom of Fife', tells an original story based in an alternate-history medieval Scotland, where magic and dark sorcery reigns supreme. Now the band seeks to explore the new and epic frontier of outer-space in their upcoming album, 'Space 1992: Rise of the Chaos Wizards'. Napalm Records will unleash its majesty upon the universe on September 25th 2015AD (After Dundee)! A concept of such epic proportions requires a truly talented vocalist, and for this purpose Thomas Winkler from Swiss power metal band EMERALD was hired to provide majestic soaring vocals. The lineup is completed by Paul Templing, James Cartwright, and Ben Turk, who honed their battle skills in various underground UK metal bands. GLORYHAMMER shall be a band like no other - Prepare for the epic battle of a lifetime! Christopher Bowes - Keyboards Thomas Winkler - Vocals Paul Templing - Guitars James Cartwright - Bass Ben Turk - Drums
Read more on Last.fm. User-contributed text is available under the Creative Commons By-SA License; additional terms may apply.
Read More