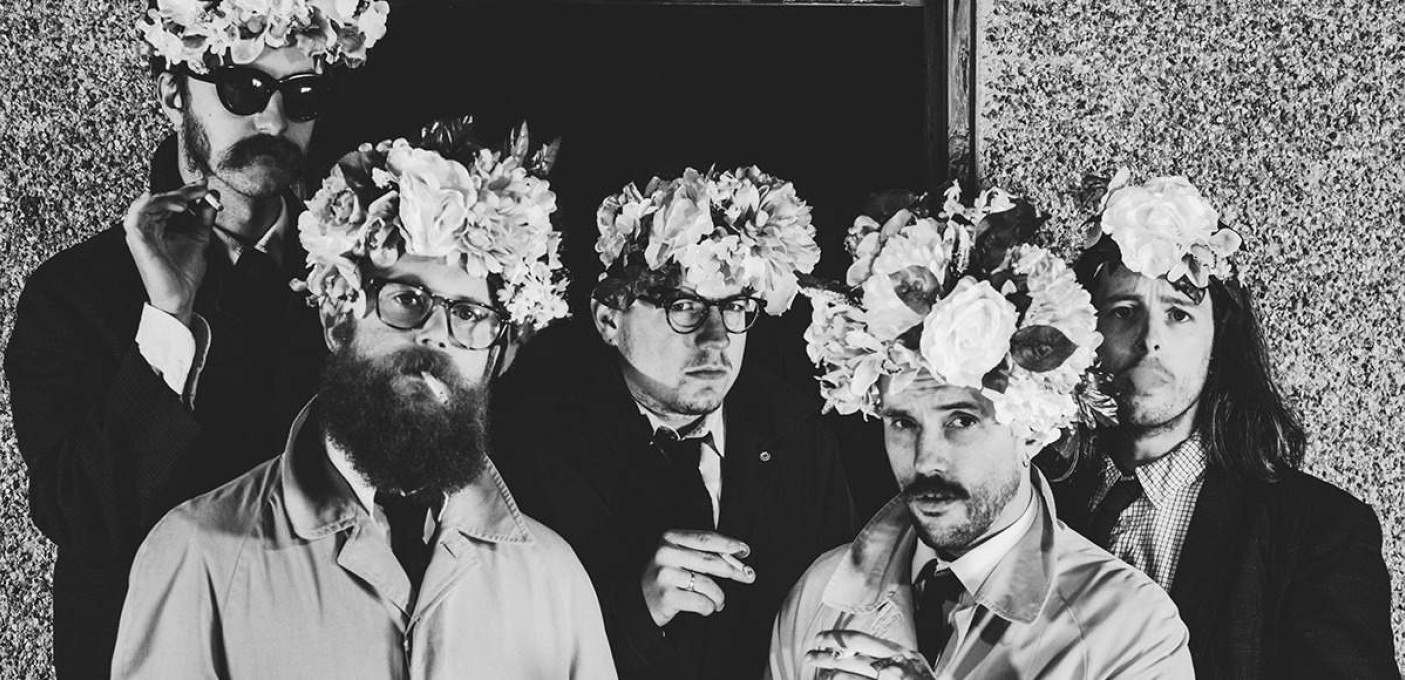 Post-brexit punk from Great-Britain. Has an extremely strong live reputation.

TIMING
- 7.30 pm: doors open
- 8.00 pm: Life
- 9.00 pm: IDLES (the expected end time is 10.30 pm)
- free aftershow after the IDLES concert with Peuk in the Trix Café, click here for more info
(this schedule is subjected to last minute changes)

This concert is organized by MCLX.
For this concert we don't accept Gate15 culture vouchers (for Antwerp students).
Idles gb
Idles are a heavy post-hardcore/punk band from Bristol, London and Newport. The success of the band's debut EP "Welcome" did not go unnoticed and so it happened that BBC Introducing in the Southwest honoured the group as "Band of The Year" in 2012. After a hiatus, the band returned in 2015 with "MEAT EP" and "META EP". "Divide & Conquer" and "Well Done" were released in 2016, when it was announced their debut album "Brutalism" was released on March the 10th, 2017 and was supported by a 24 date UK Tour during March and April. http://www.idlesband.com Read more on Last.fm. User-contributed text is available under the Creative Commons By-SA License; additional terms may apply.
Read More
LIFE gb
Numerous artists have used the name Life, including: 1. LIFE - British Post-Punk band formally known as The Neat. Their debut single "I Wanna Forget" was released on 21st October 2013 via Birthday Records. 2. Life - a crasher crust punk band from Japan. LIFE stands for Liberty Independence Freedom Equality. It all started in 1991. That was when we started to make plans for a new band. "Abe-chan" (Bass) and Ishiyama "Aniki"(Drum) joined hands and began attending amateur band presentations to scout around for additional members. It wasn't long before Abe-chan got ahold of the singer Hiro at a Kokubunji Morgana performance, who then became a new member to the band. It was in May of 1991, and it was a moment that signaled to beginning of LiFE. In August of the same year, Hiro introduced Naoya, a guitarist from his home town, to the group as a new member. In December, we pulled off our first live performance at 20000V, in Ko-enji (Tokyo). Our original tastes in music were quite different than they are now. It was like a mixture of Japanese hard-core sound and crust core sound. 1992 saw the departure of Ishiyama "Aniki" and the induction of Kajiyan, our current drummer. In 1993, our original guitarist Naoya dropped out, and replaced by 〇〇, after which our music was transformed to Scandinavian crust noise core sound. In 1998, our second guitarist dropped out 〇〇. We also went through a phase without a Bassist. For some time, we got by with a fill-in, "Matchan" (from FRIGORA). In 1998 "Maakun" joined the group as a new guitarist. In April of 2008, "Maakun" (guitar) dropped out. While we looked for a new guitarist, "Abe-chan" traded in his bass for a guitar, and we continued on as a band of three without a bassist. In September of 2008, new Bassist "Nori-san" (Screwwithin) replaced. In September of 2009, new twin Guitarist "Taka" replaced. Our music has changed over time since we first formed a group, but we continue to devote ourselves to the pursuit of ever-changing new music. 3. Life - a Swedish power trio (Anders Nordh, Paul Sundlin and Thomas Rydberg) who released one self-titled album and two singles for EMI in 1970 and 1971. 4. Life - a British quartet that made mainstream, somewhat bluesy, slightly prog-ish rock rather in the style of Argent or Wishbone Ash. Their one album for Polydor, 1974's Life After Death, was produced by Chris White of the Zombies. Life's keyboardist Ian Gibbons later ended up in the Kinks. 5. Life - a Manchester band formed in 1984 by New Order crew member Andy Robinson together with guitarist Graham Ellis and singer Rita Griffiths. Two singles appeared on Factory Records - Tell Me (Fac 106, July 1984) and Optimism (Fac 122, April 1985) - both produced by Steve Morris with Gillian Gilbert (of New Order). Factory Benelux also released a French language version of Tell Me, Dites Moi. The band also played several dates with New Order and Durutti Column. Andy Robinson went on to manage New Order. 6. Life - an a underground rapper who also goes by the name of Ranj or The Baran. His single "Fresh Meat (Ranj Is Back)" spread quickly throughout California and most of the USA. 7. Life - a London hip-hop artist, member of the group Phi-Life Cypher. 8. Life - an experimental post-rock/indie band from South Florida. Their sound is influenced by The Samuel Jackson Five, The Six Parts Seven, and other experimental and post-rock flavored music. They have self-recorded and -released three albums, titled (in chronological order): "Living," "Dying," and "Flows," all of which can be downloaded free at their official web page, http://lifemusic.bandcamp.com. 9. Life - the alias UK techno artist Oliver Ho used for 2 releases on the Lost affiliated Cosmic ID label. 10. Life - a Seattle punk band that draws influences from hardcore, death metal, post 90s punk, blues, and socialism. 11. LIFE - Life is a four piece from London fronted by 20 year old Mike Sharp. Read more on Last.fm. User-contributed text is available under the Creative Commons By-SA License; additional terms may apply.
Read More