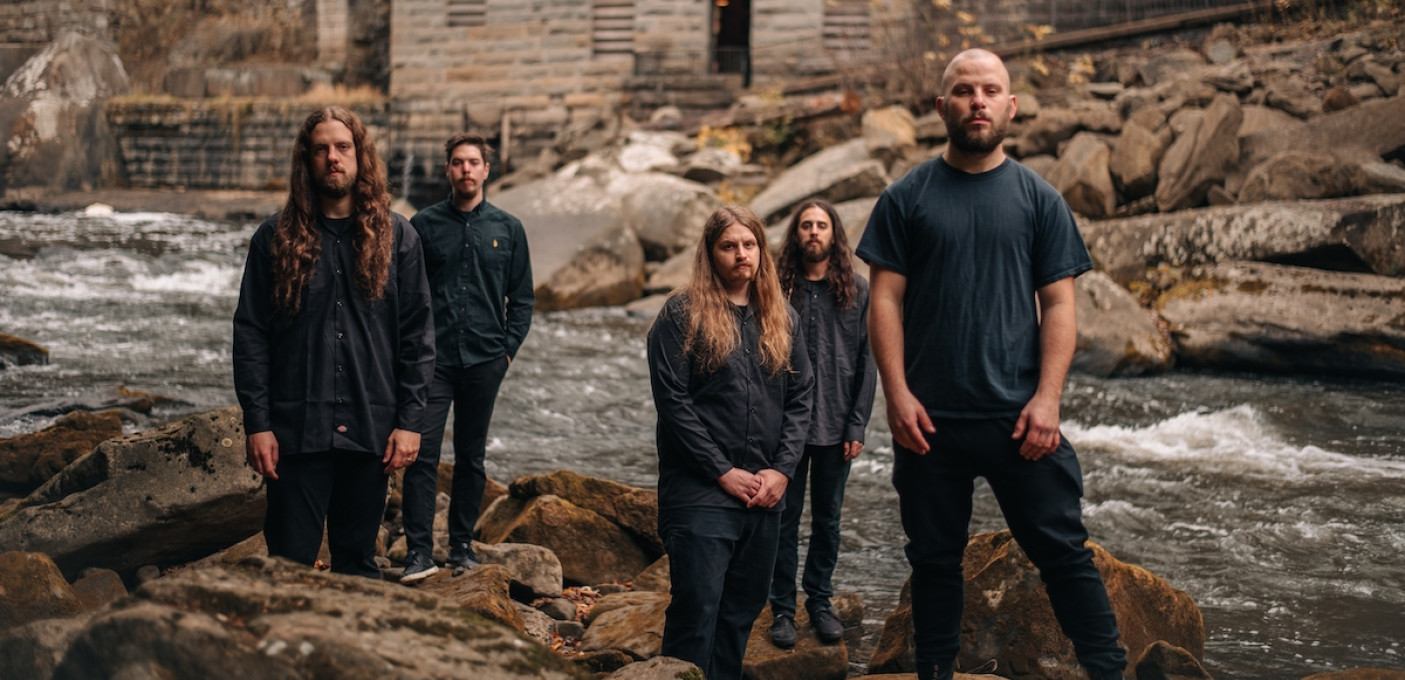 Rivers Of Nihil is one of the most promising and forward-thinking metal bands in the world today.

TIMING
- 6.00pm: doors open
- 6.45pm: Orbit Culture
- 7.30pm: Møl
- 8.15pm: Black Crown Initiate
- 9.15pm: Rivers Of Nihil
The expected end time is 10.30pm
(this schedule is subjected to last minute changes)
Rivers of Nihil us
Formed in 2009 in Reading, Pennsylvania, RIVERS OF NIHIL – which can be can be defined as the continuation of a neutral flow of retaining emptiness; humble, egoless…— took shape after Jake Dieffenbach (vocals), Ron Nelson (drums), and Jon Kunz (guitars) got together to create a band to push the boundaries of death metal. Formed out of the ashes of their previous band, Jake, Ron, and Jon played their first show as a three piece, but soon after the band recruited Adam Biggs (bass/vocals) and Brody Uttley (guitars) who had both recently exited their own old band. RIVERS OF NIHIL went on to self-release two EPs—2010′s Hierarchy and 2011′s Temporality Unbound. The band played several shows and toured throughout the East Coast and Midwest, including stops at Midwest Fuckfest with Dying Fetus, Misery Index and Arsis, and Akron Deathfest with Complete Failure. RIVERS OF NIHIL continued to tour in support of their EPs, sharing the stage with Suffocation, The Faceless, Despised Icon, Revocation, Beneath the Massacre, Dysrhythmia, Decapitated, Six Feet Under, and Decrepit Birth, logging over 50 dates in the US alone. Enter the summer of 2012; RIVERS OF NIHIL and Metal Blade Records began talks, and in September the band was officially signed to the label. In March of 2013 RIVERS OF NIHIL entered the studio with death metal master Erik Rutan (Hate Eternal, ex-Morbid Angel) at MANA RECORDING STUDIOS (Cannibal Corpse, Goatwhore, Exhumed, Mountain Goats) in St. Petersburg, Florida to begin the recording of their first full-length studio set for release before the end of 2013. Once RIVERS OF NIHIL finish recording they will hit the road to play in front of as many metalheads as possible during the summer and fall to support their upcoming Metal Blade Records debut.
Read more on Last.fm. User-contributed text is available under the Creative Commons By-SA License; additional terms may apply.
Read More
Black Crown Initiate us
Black Crown Initiate is an American progressive death metal group from Reading, Pennsylvania currently signed to eOne Music. The band formed in 2012 and self-released their first EP Song of The Crippled Bull, which was met with positive reviews. They began touring relentlessly in early 2014 with fellow extreme metal bands such as Goatwhore, Behemoth, and 1349, and lead to them being signed by eOne Music in June 2014.[1] With eOne, they have released both The Wreckage of Stars and their most recent effort Selves We Cannot Forgive, which was released on July 22, 2016.
Read more on Last.fm. User-contributed text is available under the Creative Commons By-SA License; additional terms may apply.
Read More
MØL dk
MØL is a shoegaze/metal music project based in Århus, Denmark. Signed to UK label Holy Roar Records and part of Prime Collective, DK. https://www.facebook.com/moeldk https://moeldk.bandcamp.com/ https://open.spotify.com/artist/10AROE3jG5grMdhlNyZiWo Their first self-titled EP møl, released in 2014, was mixed & mastered by Maximilian Forst of Forester Recording Studio, who has formerly worked with such bands as Heretoir and Thränenkind. Their sophomore release entitled "II", released 2015, was mixed by Jacob Bredahl (ex-Hatesphere) at Dead Rat Studios and mastered by Brad Boatright. It was met with rave reviews from the Danish underground magazines and helped the band receive more exposure in the Danish music scene. Since then, they have been working endlessly on perfecting their debut album "JORD", to be released 13th of April, 2018 on Holy Roar Records. Their first lead single PENUMBRA has already been featured in Metalhammer, Kerrang! and more. Besides this, MØL have been playing alongside other acts such as Katatonia, Oathbreaker, CABAL, Wolves in the Throne Room etc. MØL strives towards creating a massive, impressive, dreamy wall of sound that may crush or envelope the listener and take him/her to distant places of the imagination.
Read more on Last.fm. User-contributed text is available under the Creative Commons By-SA License; additional terms may apply.
Read More
Orbit Culture se
Orbit Culture is a singularly impressive death metal band. This Swedish combo has a sound that uses a variety of powerful progressive elements to get a sound that often transcends death metal. Roaring and powerful there is an all-consuming rage to their new record "Odyssey" that you just don't get in that many bands these days. More than that, Orbit Culture are clearly all very gifted musicians. The riffs on this record are incredible twisting and turning to get an effect that captures the heart and showcases the never ending, soul wrenching madness of true death metal. The blazing blast beats only add to the enduring magic of Orbit Culture, giving them a healthy dose of energy to keep things crashing forward. Orbit Culture understands what it is to write some excellent death metal songs and will brook no posers. Instead this is a band that will only surge forward; bringing what death metal can be to whole new realms of metal madness. Prepare yourselves my brethren, Orbit Culture are proof that the metalocalypse has begun." – Matt Baggins, TwoGuysMetalReviews.com "…This time we're giving a listen to a four-piece death/groove metal band called Orbit Culture. The band formed less than a year ago in March 2013. They immediately started working on original material and ended up packing a heavy self-titled EP in August. The EP featured five tracks of pure groove metal with heavy death influences and authentic Scandinavian flavour. On December 1st, they released a new record called "Odyssey", which actually features remastered versions of the previously released tracks along with their instrumental versions. Considering the band self-recorded and self-produced it, the quality is really great! The concept of the EP varies from fire goddesses and man-eating machine birds to the human mind and the struggles of humanity." – Mike, TheCirclePit.com "...Orbit Culture are a death metal band from Sweden, and asides from a few token similarities, I wouldn't describe their sound as falling in the Swedish Death Metal school. Instead Orbit Culture have cultivate their own brand of groovy and powerful death metal that blasts forward with a very clear and oftentimes poignant attack. Orbit Culture get what they want to do and how to do it, and the way their precision attacks blasts into your eardrums is not something to easily be forgotten. These guys understand what death metal is all about, crushing riffs that are still memorable and easy to latch on too. If nothing else, their new record In Media Res is an enjoyable listen. So if you need to get your fix of tight death metal that penetrates the soul and blasts your heart apart, then look no further. As these guys develop I'm sure they will be able to hone their tight sound into something even more unique, creating death metal that cures humanity of our fear of the dark." – Matt Baggins, TwoGuysMetalReviews.com О себе In the deep forests of southern Sweden lies the small town of Eksjö where the band Orbit Culture originates from. The idea of the band grew strong within singer & rhythm guitarist Niklas and lead guitarist Maximilian after messing around with some unpolished demos at home. At that time, Maximilian was currently playing with another local band called Abstract Noise, together with Orbit Culture's fellow drummer Markus Bladh. Maximilian recruited Markus to join his new band, followed by the arrival of Christoffer Olsson on bass guitar. The line-up was now complete. Shortly after Orbit Culture's inception, the band started to work on their debut EP. The production ended on August 17th, 2013 and Orbit Culture's very first piece of music was released shortly after. All the songs were recorded in what used to be an old power plant in the bands hometown. The EP was mixed and mastered by Niklas himself. Later that year, the band re-released their debut EP, re-mastered with a new bone-crushing artwork. After some positive feedback and reviews both nationally and internationally the band quickly started working on their first full-length album. Through an intense process of songwriting, recording, mixing and mastering the band finally finished and released their first full-length album called "In Medias Res" on the 23rd of July, 2014. The album concept builds on a war between the race of men and machines. The album is fully packed with epicness and shall leave no one unsatisfied. After a handful of shows promoting the new album and getting their name out there, lead guitarist Maximilian decided to leave the band to pursue other interests. Even though a close friend and important musician in the band had left, the band felt that the new album was not enough and the hunt for something authentic and real began. After almost two and half years of writing and recording new and more powerful songs, the finished album came to be known as "Rasen".
Read more on Last.fm. User-contributed text is available under the Creative Commons By-SA License; additional terms may apply.
Read More