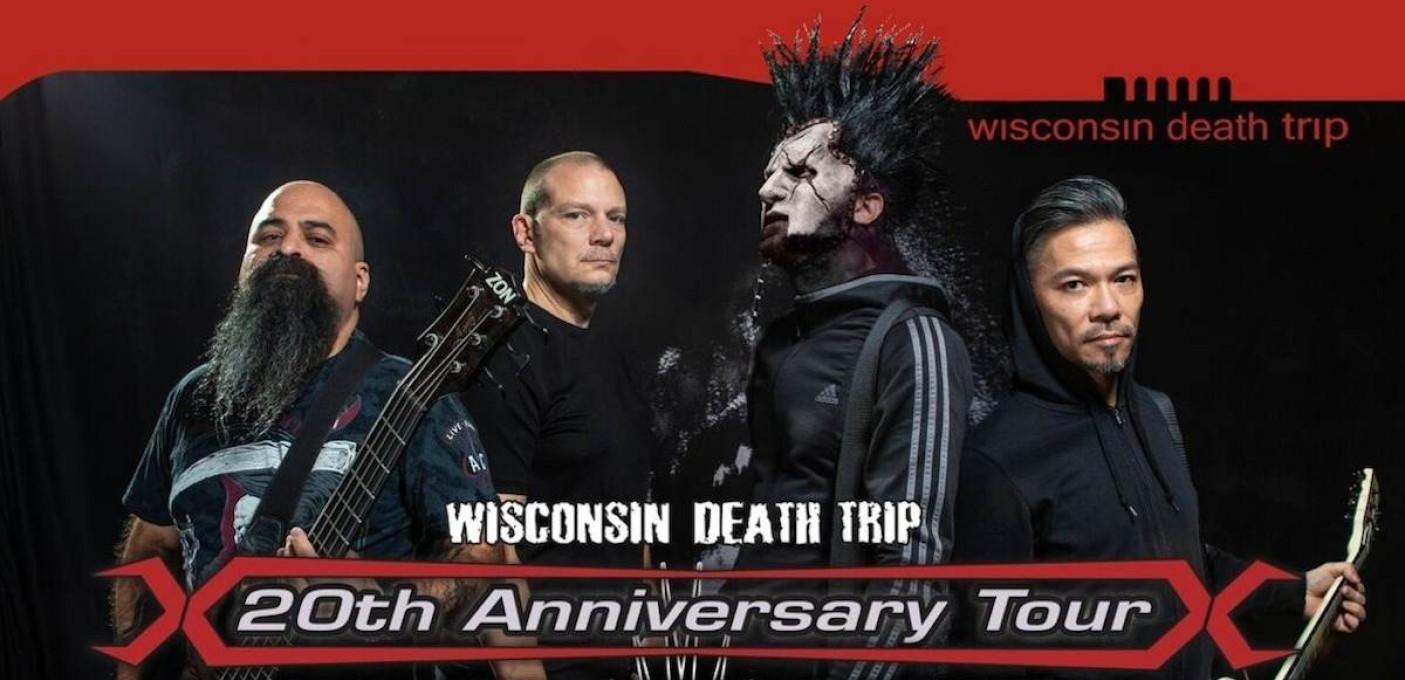 The surviving members of STATIC-X's original lineup will embark on the "Wisconsin Death Trip" 20th-anniversary tour.

TIMING
- 6.00pm: doors open
- 6.30pm: dope
- 7.20pm: Soil
- 8.20pm: Wednesday 13
- 9.30pm: Static-X
ATTENTION! Due to the extensive line-up, the expected end time of this concert is at 10.45pm.
(this schedule is subjected to last minute changes)

This concert is organized by Biebob.
For fans of
Coal Chamber, Mudvayne, Korn, Powerman 5000, Drowning Pool, Spineshank
Static-X us
Static-X was formed in 1994 from the ashes of Wayne Static and Ken Jay's former band, Deep Blue Dream. After searching for members in Chicago,United States, Static and Jay decided to go to Los Angeles to continue their search. There they met Tony Campos from the Mexican death metal band Asesino, and Koichi Fukuda, completing the band's original line-up. Static-X signed with Warner Brothers Records in early 1998. The band's debut album, Wisconsin Death Trip, was released March 23, 1999. Notable songs from the album include Push It, I'm With Stupid, Bled For Days, and Fix. Static-X's touring schedule in support of the album included two Ozzfest stints. The following year saw the release of the little-known EP The Death Trip Continues, and the band contributed the song "Otsegolation" to the PlayStation video game Omega Boost. Push It also appeared on the Playstation video games Street Skater 2 & Duke Nukem: Land of the Babes. After recording their follow-up album Machine, guitarist Koichi Fukuda left the band to spend time with his family and pursue other musical opportunities. Tripp Eisen, formerly of Dope, stepped in as Fukuda's replacement. Machine was released May 22, 2001. Static-X quickly began work on their third album Shadow Zone, this time with Eisen performing and writing on the album. Before they started recording, however, Ken Jay left the band due to "political differences." Josh Freese of A Perfect Circle was brought in to drum on the album, and Nick Oshiro, formerly of Seether, was later selected as Jay's replacement. Shadow Zone was released October 7, 2003, and July 20, 2004 saw the release of Beneath... Between... Beyond..., a collection of rarities and demos. Later that year, Wayne did guest vocals on the Skinny Puppy song Use Less. Shortly after the release of Beneath... Between... Beyond..., the band commenced work on their fourth studio album, Start a War. In February of 2005, Tripp Eisen was arrested in a sex scandal involving minors, and was fired from Static-X shortly after. Former guitarist Koichi Fukuda, who had been mixing the new album, rejoined Static-X to fill the vacancy left by Eisen. Start a War was released June 14, 2005. Cannibal, released on April 3, 2007, marked the studio return of their original guitarist, Koichi Fukuda. One of the new tracks called "No Submission" is available on the Saw III soundtrack. The full track has also been released on Static-X's MySpace page. "Cannibal" was released as a digital download single at iTunes. "Destroyer" was released as a lead off radio single, before the album was released. Videos for the singles were supposed to be taken at the same time. On March 20, the upcoming album was preceded with an exclusive Destroyer EP. The video for "Destroyer" has also been produced and is available now at headbangersball.com. The album itself debuted at #36 in the U.S. with sales of over 30,000. On May 10, 2007 it was announced that the band would be playing on the main stage at Ozzfest 2007. Additionally, in a recent interview, Wayne Static announced his side-project called "Pighammer". The chorus of the song "Destroyer" was used in an advertisement promoting the latest video game in the WWE franchise, Smackdown vs. Raw 2008. In November 2007, Tony Campos joined legendary industrial act Ministry as a temporary touring bassist for Ministry's C U LaTour in the wake of Paul Raven's death. The band began their sixth studio album, Cult of Static, in January 2008 after returning from the Operation Annihilation tour in Australia. In a posting at the Static-X message boards Wayne Static said that this time around he is focusing on longer buildups and break downs like in the Wisconsin Death Trip days of the band, however the album still maintains the heaviness that was present on Cannibal. On October 14, 2008 Static-X released their much anticipated live CD/DVD, Cannibal Killers Live. On December 11, 2008 Wayne Static confirmed on the Static-X Message Board the new album's release date and name saying "I had hoped to announce it here first, but my publicist beat me to the punch! The new record is indeed entitled "Cult of Static" and will be released March 17. The "cult" part of the title is not to be taken in any religious manner, I am referring to and giving respect to the loyalty of all you good people that have supported us through the years. This record is definitely darker than Cannibal and has more synths and loops as well. And this is also the most crushing guitar tone I have ever had. There are 11 songs instead of our usual 12, and they are mostly longer and more epic than ever before." The album debut at #16 on the Billboard 200 chart, the highest a Static-X album has ever been since their second studio album, Machine. A new Static-X song called "Lunatic" appeared on soundtrack to the movie Punisher: War Zone. In 2009, the band performed at the Download Festival. It also was the first time the band made an appearance at Rock on the Range.After finishing their final tour dates in Australia at the end of 2009, Wayne Static announced on the band's official X-Boards that he will now be focusing on his side project Pighammer. In a follow up post he was quoted "It's doubtful I will do anything with Static-X for the next couple years" leading fans to interpret that the band is still together and just on hiatus. Later, he revealed that Tony Campos had left the band, and Campos has since joined the metal band Soulfly, taking over from Bobby Burns. Koichi Fukuda went on to join industrial metal / ambient band Drugstore Fanatics. In 2010, Wayne Static has been confirmed for Graspop Metal Meeting 2011 as part of his 'Pighammer' solo project. He released his debut solo album "Pighammer on October 4, 2011. In 2012 Wayne Static decided to reform Static-X, but none of the original members will join him. Instead his solo band will tour under the name Static-X. The band's musical styles are industrial metal, alternative metal, and occasionally nu metal. But the band rejected the nu metal label and they also call their music as "evil disco". The band are influenced by metal and industrial bands like Ministry and Fear Factory. On 1st of November 2014, news surfaced of Wayne Static's death. At this point no formal reason has been published for his passing. Static died on November 1, 2014 in Landers, California, three days before his 49th birthday. He had consumed half of an oxycodone pill as well as alcohol that morning before going to bed with his wife Tera Wray. She woke up later that day to find that he had died in his sleep. His family issued a statement stating that rumors of his death being drug-related were false, noting that he and Wray had stopped using illicit drugs in 2009. An autopsy later confirmed that Static had died of multiple prescription drug toxicity, consisting of the painkillers oxycodone, hydromorphone, and the anti-anxiety medication alprazolam combined with alcohol, though the report also noted that years of past "chronic prescription drug and alcohol abuse" was a contributing factor. Former Static-X members Koichi Fukuda and Tony Campos paid tribute to Static. Static was cremated in California. A memorial rock show followed in Los Angeles, and a family service followed in Illinois. Members Wayne Static – lead vocals, rhythm guitars, keyboards, programming (1994–2014) Ashes – lead guitars (2012–2014) Brent Ashley – bass (2012–2014) Sean Davidson – drums, percussion (2012–2014) Former Ken Jay – drums, percussion (1994–2002) Tripp Eisen – lead guitars (2001–2005) Tony Campos – bass, backing vocals (1994–2010) Nick Oshiro – drums, percussion (2003–2012) Koichi Fukuda – lead guitars (1994–2000, 2005–present)
Read more on Last.fm. User-contributed text is available under the Creative Commons By-SA License; additional terms may apply.
Read More
Wednesday 13 us
Wednesday 13 is a horror punk band, fronted by Wednesday 13 of Maniac Spider Trash, Frankenstein Drag Queens From Planet 13, Murderdolls, Bourbon Crow fame. The group formed in 2004 and continue to play. The genre of music is a mix of death rock and punk with lyrics heavily inspired by horror movies. All music and lyrics are written by the vocalist Wednesday 13. All guitars, bass, keyboards and vocals on the recordings are by Wednesday 13. Coner drummed on their debut album, whilst Kid Kid and Piggy D provided some back up vocals. After Wednesday 13's primary band the Murderdolls went on hiatus, he went on a solo tour of the United Kingdom in March 2004, called the "Graveyard A Go-Go" tour. For his live performances he was joined by members of Florida horror punk band Death Becomes You, though this was not meant to be permanent. When Wednesday 13 returned to North Carolina in June 2004 he began to put together a more permanent band, with whom he would perform with under the Wednesday 13 name. He brought in a former Frankenstein Drag Queens From Planet 13 member Ikky on guitar. The band took heavily influenced by the likes of KISS and Alice Cooper, while at the same time not straying far from the band members previous horror punk related projects. In September 2004 Ikky was replaced with Matt Montgomery also known as Piggy D.Together the Wednesday 13 band toured Europe in November 2004 on the "Look What The Bats Dragged In" tour, some of dated were supported by English rockers Viking Skull. In 2005 after touring, they released their debut album "Transylvania 90210", and made a promotional video for the track "I Walked With A Zombie", the video depicted the band members in footage from the original Night of the Living Dead horror movie. Following the albums release the group embarked on a tour of the United Kingdom; "Tour from the Crypt". Also in 2005 they played on the main-stage of Download Festival at Donington, but perhaps the crowning moment for the group so far was when they opened some shows for their idol, Alice Cooper around Halloween. Wednesday 13 parted ways with Roadrunner Records, before signing a new deal with Rykodisc, which then released a new album on named Fang Bang on September 12th, 2006. During March and April of 2006 all of the members of the band parted ways with Wednesday 13, first the bassist Kid Kid, to concentrate fully on his solo project. It was announced that Argyle Goolsby of Blitzkid would be filling in at three live shows, before the band found a permanent replacement. Then 13 announced that guitarist Piggy D and Ghastly had also left the band, 13 stated that he maintains an amicable relationship with all the former members and wished them luck. On the band's official website, 13 wrote that there would be a special Wednesday 13 line-up for a Cancer research benefit concert, and the following gig. This line-up brought Wednesday 13 and his Murderdolls band mate Eric Griffin back together for the first time since 2003. Griffin took on guitar playing duties, also joining him was drummer Racci Shay and bassist Brix from the band Dope . It was later announced that this line-up, aside from Brix would be permanent. After Brix left the band Nato Manor joined the band on bass. And after Eric left the band a much more talented guitarist J-Sin Trioxin joined the band. In the middle of Europe tour 2007 Racci's dad died and so he was replaced by CombiChrist drummer until the end of the tour. And because Wednesday was still recovering from injuries they got a second guitarist. The Band toured in early 2007 with Vains of Jenna, and recently announced a summer US tour with The 69 eyes, Fair to Midland & Night Kills the Day Current Members * Wednesday 13 - vocals and guitar * Racci Shay - drums * Nate Manor - bass Former Members * Nicodemous - live bass (2004) * Christopher Lee - live drums (2004) * Gory - live guitar (2004) * Ikky - guitar (2004) * Piggy D - guitar (2004-2006) * Kid Kid - Bass (2004-2006) * Ghastly - Drums (2004-2006) * Brix Milner - live bass (2006) * Argyle Goolsby - live bass (2006) * Eric Griffin - guitar(2007) Discography * Transylvania 90210: Songs of Death, Dying, and the Dead (2005) * Fang Bang (August 29, 2006) * Skeletons (April 29, 2008) * The Bloodwork EP (April 29, 2008) * Fuck It! We'll Do It Live (October, 2008)
Read more on Last.fm. User-contributed text is available under the Creative Commons By-SA License; additional terms may apply.
Read More
Soil us
There is more than one artist with this name: 1) SOiL is a four-piece metal band from Chicago, formed in 1997 by ex-members of renowned death metal acts Broken Hope and Oppressor. After three efforts (the EP SOiL, the EP El Chupacabra and the first album Throttle Junkies), they gained international success with their album Scars. Their success was helped by singles such as Halo and Unreal, which bear their distinctive harsh but emotional and melodic sound. Current members - Ryan McCombs – Vocals (1997–2004, 2011-present)
Read more about SOiL on Last.fm. User-contributed text is available under the Creative Commons By-SA License and may also be available under the GNU FDL.
Read More
Dope us
Dope is an industrial metal/nu-metal band that was founded in 1997 and immediately exploded onto the New York City club scene. After only a handful of shows, Dope secured a major label deal with Epic / Flip Records in 1998. The band's self-produced debut, 'Felons and Revolutionaries', was released in 1999, and nonstop touring fueled the band's success. Dope did several national tours with acts like Slipknot, Sevendust, Mudvayne, Fear Factory, Staind, Static-X, and Kid Rock earning Dope a reputation for being one of the most exciting live bands of the new millennium. Dope's non-stop touring and impressive live performances helped their debut release to SoundScan more than 250,000 units, creating the foundation that they would continue to build on in the years to come. The track "Debonaire" is notable for being used in the 2001 film The Fast & The Furious. Successful headlining tours and Dope's second album "Life" followed in 2001. The band's sound matured and the record was received with excellent reviews by both the media and fans alike. Unfortunately, the band's two labels were not functioning well together anymore. The label support and focus was non-existent for Dope at this very crucial time and there was very little awareness surrounding the album's release. Instead of becoming bitter and fading into oblivion, Dope decided to take matters into their own hands. After confirming the band's release from both of their original record deals, Dope quickly returned to the studio and created its third album "Group Therapy"; a collection of 13 new songs which included a full-length music video for every song on the album. With the major label jitters still fresh in their heads, Dope chose not to shop this new record to the record labels. Instead, Dope independently released "Group Therapy" in October of 2003 and set out on tour to promote the album themselves. The band did several successful headlining runs and supported acts like Mushroomhead, Slayer, Static-X and Saliva. Independently, "Group Therapy" has scanned nearly 50,000 units in less than a year. In total, Dope has scanned close to 400,000 combined units in its career. Now that they have proven to themselves and to the industry that there is still a strong demand for Dope, the band has completed its fourth album "American Apathy" and has inked a new deal with Artemis Records (home of Zakk Wylde's Black Label Society, Kittie, and Sugarcult). The new album is a return to the band's roots with a heavy guitar driven roar and political overtones in the lyrical content. This may very well be the strongest, most exciting Dope album to date. Dope has just finished up headlining the Jagermeister sponsored "American Apathy Tour 2004" featuring Dope and former Ozzfest acts Motograter and Twisted Method. The tour hit over 70 cities in 11 weeks. Dope utilized this tour to showcase songs from the new album and as the first step to begin creating awareness around the new Dope album "American Apathy" to be released this spring. Dope has survived the politics of the business and the ever-changing flavor of the month trends. They are proving that they are not part of any one genre, instead, they have created their own. Ask anyone wearing a black t-shirt at a hard rock or heavy metal concert what they think of the band Dope, and they are sure to respond with devil horns and a smile. The conclusion is that people like Dope. Reconnecting Dope with the people is their goal in 2005. Now preparing to release their 5th studio album, Dope has recruited a new drummer, Angel, formerly of the Genitorturers, to kick off their promotional tour. Dope has recently released their highly anticipated new album "No Regrets". The album was launched March 10th 2009, on Koch Records. Tracks included on the album include "6-6-Sick", "Addiction" Ft. Zakk Wylde, "Nothing For Me Here" (was featured on Guitar Hero 3), and Billy Idol Cover Song "Rebel Yell". To Date (6/13/09) The album is rated 4 1/2 out of 5 stars based on 21 reviews on cdnow.com. After releasing album No Regrets along with lots of touring after and before, they decided to take a little easier and stopped touring regularly for a while. Dope started working their new album "Blood Money, Part 1" and they dropped a few teasers from the album in 2012 and in 2013 which also said that the album would be released in 2014. In 2015 Dope played a few gigs in Russia for the first time with their original "Die MotherFucker Die" line-up and they also recorded their very first live album in Moscow. Live album, titled "Live In Moscow", was released in 2016 summer with crowdfunding process via their website where all the people who pre-ordered the live album could f.ex. have their name on its live albums liner notes and also could make the thermometer grow with their shopping at their band website. Thermometer had different types of goals like releasing live dvd and going to U.K. and Europe for a tour. After releasing Dope's first live album, band announced that they will be releasing their long awaited album "Blood Money, Part 1" in the autumn of 2016 also stating that the second part of "Blood Money" wouldn't take so long time to release as "Part 1" did. Dope released their first tour dates in USA for a long time after releasing their live album in summer. The tour was called "Die Mother Fucker Die Reunion" it including the original line-up from the "Life" album. "Blood Money, Part 1" was released in October 28th in 2016. After releasing the record, band went to Russia and United Kingdom as a headline tour along with the "Die Mother Fucker Die Reunion" tour. In the beginning of 2017 Dope released some more tour dates for spring 2017 with co-headliner Combichrist and support acts September Mourning and Davey Suicide. It's been rumored that Dope will come to Europe to play some festival gigs in the summer of 2017 but nothing official yet hasn't been released.
Read more on Last.fm. User-contributed text is available under the Creative Commons By-SA License; additional terms may apply.
Read More