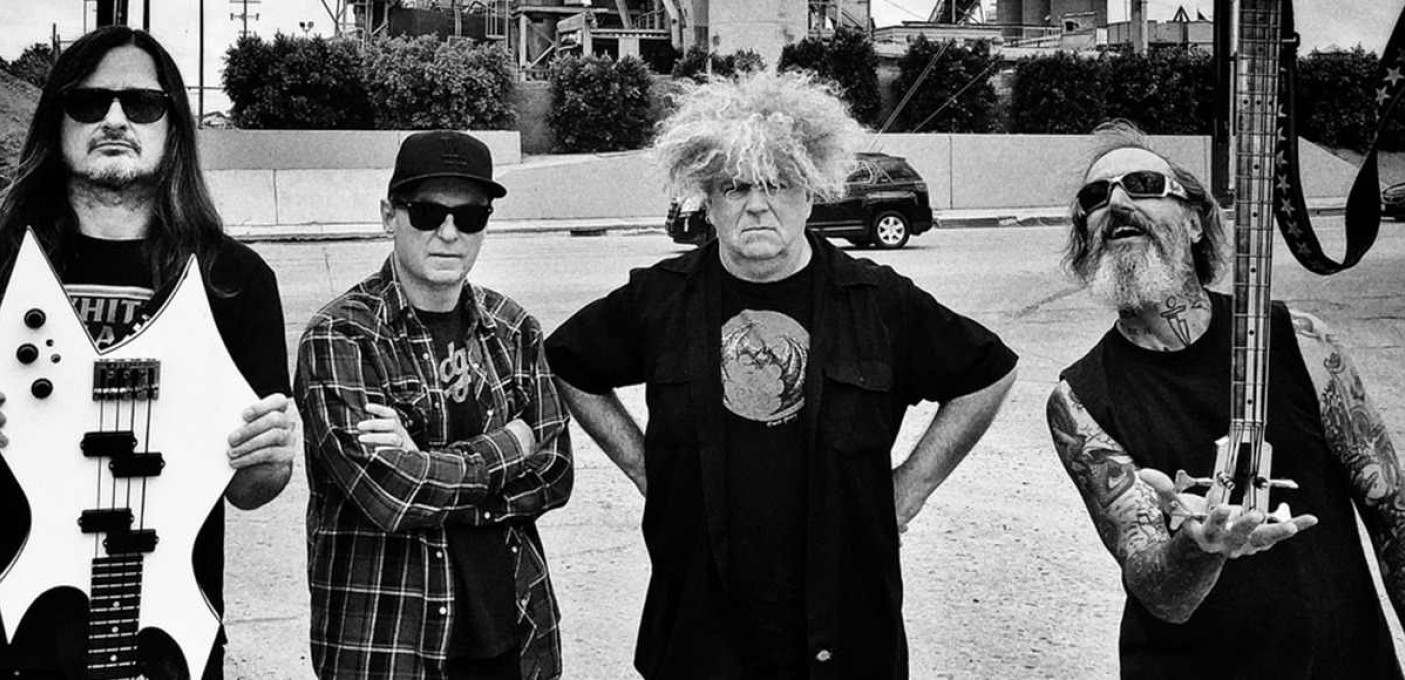 This concert is cancelled

Yesterday, the unfortunate news came to our ears: The Melvins will cancel their full European tour due to a back related injury of their drummer, including the show that was planned on Thursday June 20th at Trix. All purchased tickets will be refunded automatically. But, we are also bringers of good news...

Because this was suppose to be the last big concert and the unofficial closing party of this season (the only concert that is left, is clubshow of La Dispute on June 25), we will move the concert of A Place To Bury Strangers and the concert of British post punks Crows to our Club. To top it off, we will make this double concert free of admission for anyone. A small end of season gift to only the greatest crowd there is. All info about this night, including the afterparty, can be found here. See you then!

This is the statement of The Melvins which we received: "Dear Friends, I regret to inform you that I have to cancel our upcoming European tour. I've been dealing with a back related injury and I'm unable to perform at this time. I feel awful that I have to let you all down like this. I want to assure you that I'm working very hard to return 100% better! We will come back as soon as we can. Thank you for understanding, Dale Crover."

If you have any more questions, don't hesitate to contact us: tickets@trixonline.be.
A Place To Bury Strangers us
A Place to Bury Strangers are a power trio comprised of Oliver Ackermann (guitar / vocals), Dion Lunadon (bass) and Robi Gonzalez (drums). The band play a heavy, atmospheric wall of sound-influenced blend of psychedelic, shoegaze and noise rock. A Place to Bury Strangers was formed in 2002 by David Goffan and Tim Gregorio. Current frontman and guitarist Oliver Ackermann had moved to Brooklyn, New York, United States, following the disbanding of his previous group, Skywave to join the group and become the primary songwriter after the departure of Goffan. They played their first show at Luxx in Brooklyn in 2003. Jay Space and Jono Mofo, both from the New York City-based band MOFO, joined the band when Tim Gregorio left. In 2006, APTBS handmade three different untitled EPs with different color schemes; these later become known as the Red, Blue and Green EPs. In 2006, the band gained some acclaim following its Webster Hall performance with The Brian Jonestown Massacre. The band returned to Webster Hall in 2007 to play with one of their major influences, The Jesus and Mary Chain. Throughout these formative years, the band's live shows became increasingly chaotic which earned them the title of New York City's "loudest band" from various indie reviewers and bloggers, as well as "the most ear-shatteringly loud garage/shoegaze band you'll ever hear" by The Washington Post. The New York Times applauded their revival of "the ominous, feedback-drenched drones of the 1980s". In early 2009, APTBS signed to Mute Records. The band also announced another European tour and appearances at the Coachella Valley Music and Arts Festival, Seaport Music Festival, Rock al Parque and Siren Music Festival. Their second album, Exploding Head, was released in October 2009. In early spring 2010, it was discovered that Jono MOFO had decided to leave the band for personal reasons (after recently getting married) rather than tour with the band during their US tour supporting The Big Pink. He was replaced for that spring tour by Dion Lunadon, formerly of the bands The D4 and The True Lovers. On February 14, 2011, Ackermann stated that the band had begun working on their third full-length album. On January 10, 2012 A Place to Bury Strangers release the iPhone shot all Hipstamatic video for the first single So Far Away of the forthcoming Onwards to the Wall EP. On February 12, 2012, the band announced that Robi Gonzalez was taking over drumming duties for A Place to Bury Strangers. They also thanked former drummer, Jay Space, for his contribution to the band. On May 2, 2012, it was confirmed that the third album of the band, , was scheduled to be released on June 11 in the UK and Europe, and on June 26, 2012 in the US via Dead Oceans label. The band announced plans to support the release with a full North American tour in October 2012. It was announced in early March 2013, that the band had recorded covers of songs from the Portland band, Dead Moon. They plan to release these covers on Record Store Day 2013 as an EP titled Strange Moon. In March 2013, the band began recording their 4th studio album. They recorded for several days at ABC Studios in Etne, Norway with Emil Nikolaisen of Serena Maneesh. Then, in May, APTBS released a 7" via Sweet Mistakes Productions, free with the Fractal Press Magazine, issue #135. The band also sold them without the magazine during their live shows. In late November, Ackermann and Lunadon had an interview with Drowned in Sound and said that there will likely be a tour following the 4th LP's release. http://www.aplacetoburystrangers.com/
Read more on Last.fm. User-contributed text is available under the Creative Commons By-SA License; additional terms may apply.
Read More