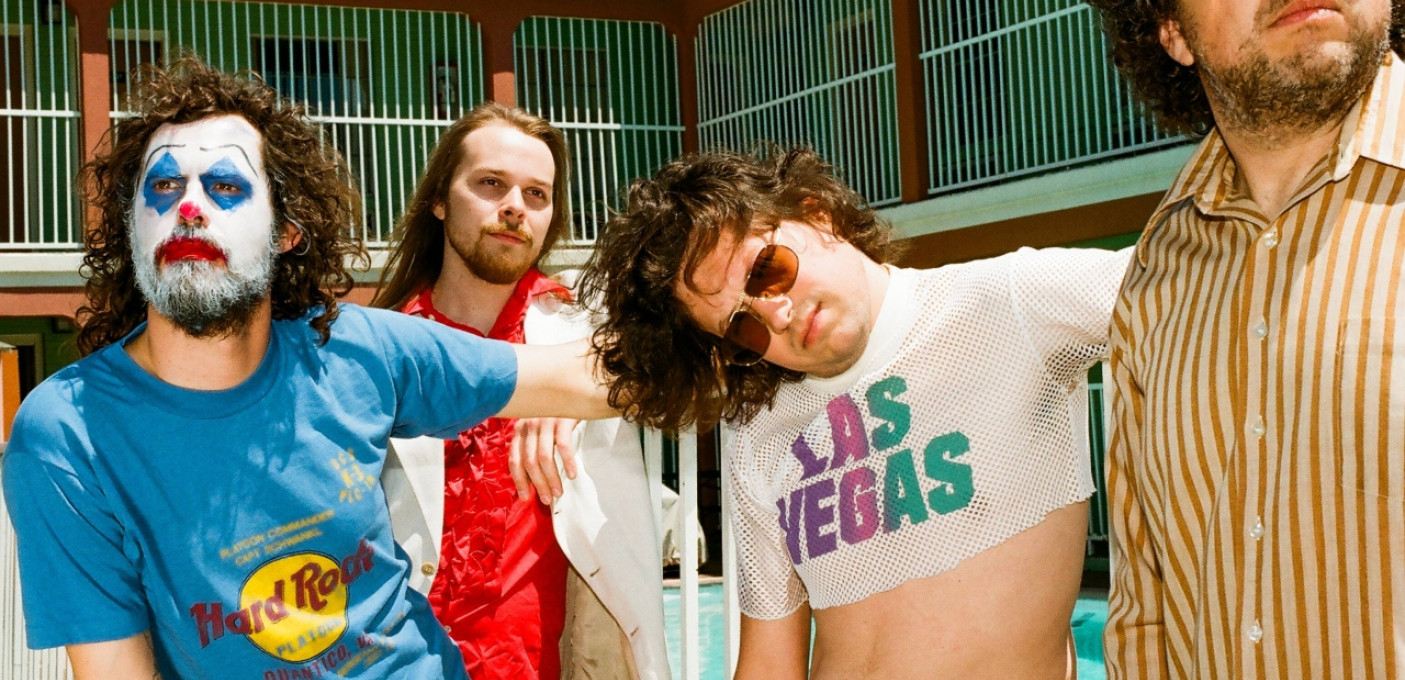 White Denim is a bluesy, jazzy, garage-rock trio, hailing from Austin, Texas USA. New album: 'Performance'.

TIMING
- 19h30: doors open
- 20h15: BC Camplight
- 21h15: White Denim
The expected end time is 22h30
(this schedule is subjected to last minute changes)

For this concert a limited number of Gate15 cultural vouchers (for Antwerp students) will be accepted. Send us at least two working days before the day of the concert a request for reservation by mail. After the devaluation of your voucher you will receive the Trix concert ticket.
White Denim us
White Denim is a bluesy, jazzy, garage-rock trio, hailing from Austin, Texas USA. According to vocalist/guitarist James Petralli, White Denim's songs are the musical manifestations of abstract paintings or philosophical tracts. He explained to UK music magazine the NME: "The things that I like to read are generally abstract. I like patterns, I like reading poetry and avant-garde prose and I'm more interested in musical patterns in literature than I am in long-form narratives. I look at paintings and try to visualise an object or image, then assimilate how that makes me feel into a series of phrases and try to make it musical." River To Cross Songfacts http://www.whitedenimmusic.com/ In March 2005, the two bands Parque Touch (Josh Block, James Petralli, Lucas Anderson) and Peach Train (Steve Terebecki) played a show together at Beerland in Austin, Texas. After the show Steve was asked to play bass for Parque Touch and the band became four, playing under the pseudonyms Byshop Massive (Lucas), Bop English (James), Nicholas Mallard (Josh), and Terry Beckins (Steve); however, in February 2006, Lucas moved to Russia and the resulting power trio changed its name to White Denim. The new line-up began playing the local Austin circuit while recording punk-infused, psychedelic blues-rock in Block's 1940s Spartan trailer. In 2007, the band self-released its first EP entitled Let's Talk About It on 7" only, but later these tracks became available on iTunes. While on tour in 2007, the band recorded its second album and sold copies as a nine-song "tour EP" entitled Workout Holiday, which was only sold at shows. Workout Holiday caught the ear of new record label RCRD LBL (an online record label releasing exclusive and completely free music from emerging and established artists), and the band signed on to re-record three of the songs from Workout Holiday. These songs were exclusively released as the RCRD LBL EP, one Mp3 track at a time over the course of the first few months of 2008. Since these releases, the band has toured extensively, playing shows including SXSW and CMJ Music Marathon, and also received the award of "Best New Band" at the 2008 Austin Music Awards. In order to reach European listeners, the band signed to U.K. record label Full Time Hobby (home to The Hold Steady and Viva Voce) for an overseas release.[8] The first release on Full Time Hobby was the single "Let's Talk About It" b/w "Darksided Computer Mouth". One June 23, 2008, the band released its debut album, the Workout Holiday LP, which consists of re-recorded songs from the band's first two self-released EPs along with some new tracks. White Denim have also finished recording their debut U.S. full-length LP, which will be entitled Exposion. Originally sold during their Spring 2008 tour as a CDR with the title 11 Songs, the album is planned to be released by the summer of 2008. The new album will be self-released much like the Let's Talk About EP (on vinyl and digital format only), reporting that "CDs seem pretty worthless to us". Members: * James Petralli: Vocals, guitar * Joshua Block: Drums * Steve Terebecki: Vocals, bass
Read more on Last.fm. User-contributed text is available under the Creative Commons By-SA License; additional terms may apply.
Read More
BC CAMPLIGHT us
Please scrobble this artist as BC Camplight. Vote for auto-correction. BC Camplight is the moniker of songwriter Brian Christinzio, originally from Philadelphia, Pennsylvania, United States, but now based in Manchester, United Kingdom. His 2005 album Hide, Run Away was released by One Little Indian and featured Cynthia G. Mason on vocals. It was hailed by critics around the globe as one of the best records of the year. Time Magazine called Christinzio "a name to become synonymous with star quality". The follow-up, Blink of a Nihilist, was released in 2007. In recent years BC Camplight re-located to England, where he signed a record deal with Bella Union and released his third album, How To Die In The North (January 2015). Read more on Last.fm. User-contributed text is available under the Creative Commons By-SA License; additional terms may apply.
Read More