De Brouwerij / artistic space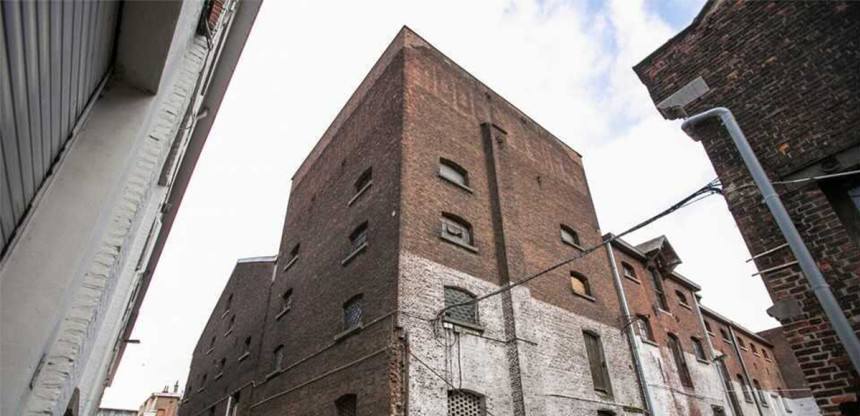 Trix and Studio Start open new pilot project in an old brewery as a workplace for artists
Trix lives for music. For musicians, for the city and for the love of our audience. That is why we are starting a new project: De Brouwerij. A tasting place and artistic space for musicians and artists in the former steam beer brewery De Ridder in Deurne.
The buildings on the brewery site of the former De Ridder brewery in Deurne were given a new owner at the end of 2020, who was then given the task of creating added value for the neighbourhood. In collaboration with Trix and Studio Start, they are now opening De Brouwerij, a central workplace for artists and an answer to extra space for creation and development by young makers.

De Brouwerij will become a lab to experiment with for about nine different makers, where they can brew, let ideas ferment, make mistakes and so much more.
These artists were the first to occupy De Brouwerij:
High Hi
The Belgian alternative pop band High Hi has been playing a mix of eighties indie music with a contemporary twist since 2014. The people of Leuven know very well what they are doing, successfully combining new wave, pop rock and shoegaze. Their latest masterpiece is titled Firepool and therefore consists entirely of those summery good vibe songs that perfectly complement your go-to indie playlist.
Abel Ghekiere
Abel Ghekiere makes bedroom music straight from the heart and gentle on the soul. His unique sound comes from merging modern jazz, traditional folk and field recordings. Through classical arrangements and a cinematic approach to composition, Ghekiere tells a story about grief and the search for comfort.
Annelies Van Dinter
At the crossroads of alternative indie pop and rock, Annelies Van Dinter (Echo Beatty), after her service as a musician in other bands (Trixie Whitley, Mauro Pawlowski, The Black Heart Rebellion, Bed Rugs), released the EP 'Ode To The Attempt' out. In four mesmerizing songs she builds her own universe, alien and haunting, and writes off the break in her relationship.
The Calicos
Big names like Wilco, Jonathan Wilson and The War On Drugs are never far away, but The Calicos, despite their young age, already have the skill to extract a very unique sound from those rich influences. They won Humo's Rock Rally in 2018 and released The Soft Landing in May 2021 on Mayway Records, containing 9 diverse songs that span the spectrum between americana and indie rock and together form a homogeneous, warm record.
Sietse from Meltheads
With Meltheads, Sietse Willems makes a combination of garage rock and surf punk served with an egg and a beer. He works solo at De Brouwerij. He also has a label Boldie and Boldie Records with which he focuses on DIY culture and cassette releases.
Aarde aan Daan
Daan Hafkamp goes on an expedition through the Dutch language with Aarde Aan Daan and packs it in dreamy, poetic and colorful indie pop, the Sufjan Stevens or Spinvis from Belgium, between literature, dream pop and experiment.
Simon Mitxelena
Around the age of sixteen he entered hip-hop through friends, and a little later he was one of the founders of the Antwerp rap clique Roedel. But he's never been a rapper full of cool talk about being tough on the street. Just like with J Dilla - one of Simon's great heroes - the love for the music and the experiment was always greater than the urge to be seen. But the rhythmic language, he carries it with him in his heart, for life. And meanwhile, the 26-year-old cabaret student still likes to write heartbreak songs in his no-man's-land.
de.ploeg
The young theater company de.ploeg of actors Taeke Nicolaï, Vincent Van Sande & Danny Bouman, musician Zino Moons and writer Matthias Hellemans has now made 3 successful productions: their debut 'It is not every day that we are needed' and then 'Koningskloote' and 'head off' in 2020.
Blue Violet
Blue Viola wants to create atmospheres and tell stories. Stories about temptation and giving in to it. About erotic delusions, obscene dreams and nightmares. About the adoration of both the Muse and the Femme Fatale. Told by menacing, repetitive drums and bass lines, flirty synths and a nervous guitar and piano playing. Whipped up by the compelling, intrusive vocals of Evert Vanheertum. Think Nick Cave & the Bad Seeds, Serge Gainsbourg, Tom Waits, Lee Hazelwood…