WE ARE OPEN / Festival & movies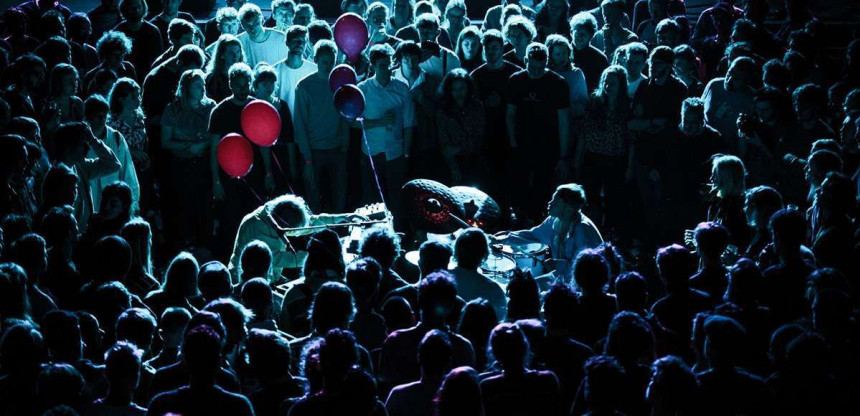 Every year we organize the Belgian showcase festival We Are Open. The thirteenth edition took place in 2022. Our sold out sign is gradually due for replacement. A few evenings in a fun February weekend, we use all the spaces we have in Trix to focus on all the great musical talent that roams our country. There's a band playing in every corner of Trix.
Both established artists with new music, and especially a lot of new upcoming talent are featured. Every year we present what's going on in the local music scene.
During the past years, visitors have been able to enjoy live ats such as Brutus, Zwangere Guy, blackwave., Bazart, David Numwami, Ikraaan, BRNS, Tessa Dixon, TheColorGrey, Delv!s, Compact Disk Dummies and many more.
WE ARE OPEN 2021, the movie trilogy!
In 2021, there will be no physical edition of We Are Open in Trix for the first time in a long time (thank you, Corona). But not focusing on great Belgian music for a year was never an option. That's why, in collaboration with Sabam For Culture, Flanders and the City of Antwerp, we transformed one festival into three films.
In the cinematic universe of We Are Open, music and cinema cross paths and a film trilogy was born: 'Lost In Terror', 'An Uncut Nightmere By The Sea' and 'Translation Park'. Lander & Adriaan, Miss Angel, Death Squad, YellowStraps, Teen Creeps, Aili x Transistor Cake, Vermin Twins, Judith Kiddo and Joeri Chipsvingers seem caught in a surrealistic trip.
Charlotte De Cort and Tobi Jonson were the directors and made their craziest ideas come true. The films will soon be available on weareopen.be. Stay tuned!