Team Trix
/ STRUCTURE
Trix is shifting towards a horizontal organizational structure.
A core team of coordinators takes the lead but can be supplemented by any member of the team who wants to discuss a project or agenda item. The working method is project-based.
Each member of the team can be a project coordinator or play a role in one of the projects. In addition to the regular position, a Trixer can also take on different roles in as many projects.
The starting point is that everyone's talent and expertise are given opportunities, because we're convinced it enriches the functioning of Trix in all aspects of the organization. Ultimately, power is shared, both internally and in cooperation with external partners.
It is a continuous research into the ideal organizational structure to move smoothly as an organization in a rapidly changing metropolitan and international reality.
Organization chart (click to enlarge):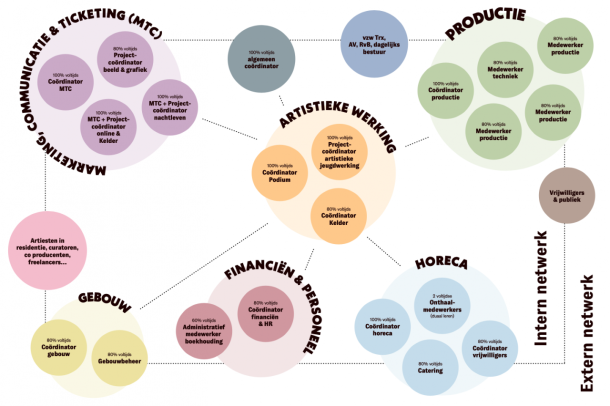 / THE TEAM
General Coordination
/ Dieter Sermeus
Finance & HR
/ Myrte 't Jolle – coordinator finance and HR
/ Ann Aendenboom – accounting
Artistic programming
/ Stijn De Mulder – coordinator stages
/ Mathilde Luijten – artistic contributor stages
/ Alban Sarens – coordinator 'Kelder' & online
/ Kevin Eyeson – coordinator artistic youth work
Communication, marketing & ticketing
/ Mike Harsdorf – coordinator communication, marketing & ticketing
/ Melissa Janssen – communication, social media, ticketing and project coordination online and 'Kelder'
/ Tom Vandenhove – communication, social media, ticketing and projectcoordination nightlife
/ Laïka Planchenault — communication, social media and ticketing
/ Catherine Nshimiyimana — communication, social media and ticketing
/ Kurt Marx – coordination visual branding and graphics
Production
/ Els Langouche – coordinator production
/ Ken Bernaerts – production
/ Niels Elsermans – production
/ Dominika Kruszewska – productie
/ Steven Bontinck – head technician
Hospitality & rentals
/ Joep Slenter – coordinator hospitality and rentals
/ Charlotte Geudens – coordination volunteers and rentals
/ Floris Knockaert – catering
/ Inara Abdelouafi, Medni Arsamikova, Lieke Mertens – reception/administration (dual learning)
/ Ada, Joeri, Amal, Mona, Laia, Han, Anastasija, Joachim, Ruben – students
Infrastructure
/ Kristof Verhoeven – coordinator infrastructure
/ Michel Huybrechts – building managements
Studio
/ Frank Rotthier – freelance technician
/ Aram Abgaryan – freelance technician
Board of Directors
Bart Van Put (chair), Matthias Dillen (treasurer), Katrien Goossens (secretary), Pieter-Jan Symons, Youniss Ahamad, Kenneth Stoclet, Hendrik De Rycker, Silke Bergans and Kasper Stuart
General Meeting
Silke Bergans, Ann Soetewey, Hendrik De Rycker, Johannes Genard, Joris Jonckheer, Kenneth Stoclet, Sami Abdou, Saraya Richter, Yannick Rigo, Jarri Van der Haegen, Stijn Lemaire, Ann Kermans, Luc Roegiers, Katrien Goossens, Pieter-Jan Symons, Daniel Regan, Youniss Ahamad, Kasper Stuart & Matthias Dillen
...AND OVER 200 MEMBERS IN A FANTASTIC TEAM OF VOLUNTEERS!
We are not going to name them all here, but they are more than indispensable. Would you like to become a Trix volunteer yourself? Here you will find all the information.