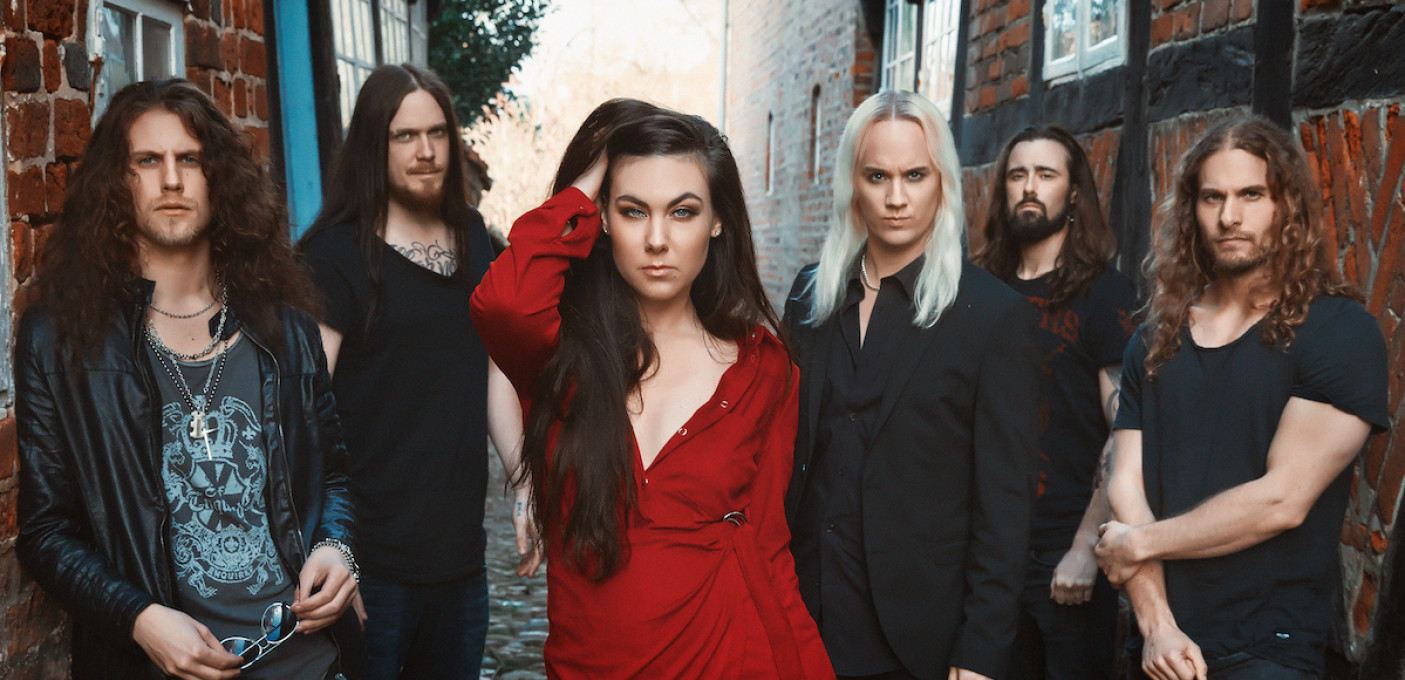 The two successful metal bands Amaranthe and Beyond The Black embark on a co-headline tour!

TIMETABLE
/ 5.00 pm: doors open
/ 5.30 pm - 6.00 pm: Ad Infinitum
/ 6.20 pm - 7.00 pm: Butcher Babies
/ 7.30 pm - 8.45 pm: Beyond The Black
/ 9.15 pm - 10.30 pm: Amaranthe
Amaranthe
Amaranthe is a Swedish/Danish band, originated from Gothenburg, Sweden, formed in 2008 that fuses melodic metal with pop melodies. Formed by Jake E (Dreamland, Dream Evil) and Olof Mörck (Dragonland, Nightrage), the project began taking shape, when singers Elize Ryd (toured with Kamelot) and Andreas Solvestrom (Cipher System, Within Y), signed on, as did drummer Morten Løwe Sørensen (The Cleansing, Koldborn, Mercenary). Bassist Johan Andreassen (Engel) joined after the photoshoot for the Leave Everything Behind demo but before the recording of the first album Amaranthe. In May 2009, the band was forced to change their name from Avalanche due to legal issues. They later released their first demo (including 4 songs) on their MySpace page, titled Leave Everything Behind. The band's debut album, Amaranthe' was released in 2011 and reached a peak position of 35 in Sweden and 16 in Finland. The album features a combination of modern metalcore-style breakdowns, harsh screams and heavy guitar riffs with soaring clean vocals and synths reminiscent of power metal. The musical style of Amaranthe has been described as "a healthy dose of pop fused with a heavily metalcore-inspired melodic death metal sound" Their second album, The Nexus, was released in March 2013. Guitarist Olof Mörck described the album as having greater contrasts, a more controversial mix of genres, and featuring more creative freedoms than Amaranthe. According to Olof, the band "took everything to eleven" in the new album. The album reached 6th on Swedish charts, 4th on Finnish charts, and reached a peak of 12th on the US Heatseekers charts. In October 2013, vocalist Solveström left the band and was replaced by Henrik Englund Wilhemsson (Scarpoint). Their third album, Massive Addictive, was released on the 21st October 2014. A special compilation Breaking Point - B-sides 2011-2015 was released on 30th October 2015. It consists b-sides and bonus tracks from Amaranthe's career. Their fourth album, Maximalism, was released on October 21st, 2016. In November 2016, clean vocalist Jake E. announced that he would take a break from the band. In February 2017, he decided to make his departure permanent. Read more on Last.fm. User-contributed text is available under the Creative Commons By-SA License; additional terms may apply.
Read More
Beyond The Black
Beyond the Black is a German symphonic metal/power metal band formed in 2014 in Mannheim. Their debut album Songs of Love and Death became popular immediately after the release, and entered the German and Austrian national music charts. The band was formed in 2014 in Mannheim, Germany. It consists of Jennifer Haben (vocalist, ex-Saphir), Nils Lesser (lead guitarist), Christopher Hummels (rhythm guitarist/backing vocalist), Michael Hauser (keyboardist), Erwin Schmidt (bassist) and Tobias Derer (drummer). They made their first appearances at the Wacken Open Air 2014 festival and on tour supporting Saxon and Hell. On 13 February 2015, the band released their debut full-length album Songs of Love and Death, which has reached 12th place in the German music charts[6] and 21st place in the Austrian charts. The album was produced by Sascha Paeth (Avantasia) and received mostly positive reviews from critics. A week later, on February 20, the band appeared on the German Sat.1 Breakfast television with the song "In the Shadows". From 13 May 2015, the band embarked on their first tour through Germany, followed by an appearance at the Wave-Gotik-Treffen on May 23, 2015. It was announced via their facebook page on the 21st of December 2015 that their second album titled Lost In Forever would be released on the 12th of February 2016, it features 13 new tracks and the deluxe edition will feature 9 live songs (including an unreleased cover), an interview and interactive menu. On July 15th, 2016 the band announced that Jennifer Haben and the rest of the band was parting ways. The band would continue with Jennifer Haben and new members to be decided at a later date. Read more on Last.fm. User-contributed text is available under the Creative Commons By-SA License; additional terms may apply.
Read More
Ad Infinitum
There are four bands that have used the name Ad Infinitum : 1. Symphonic/power metal band with Melissa Bonny on vocals, Jonas Asplind on bass, Niklas Müller on drums, and Adrian Thessenvitz on guitar. 2. Space black metal project from Appalachia, Kentucky, founded in 2013 year by J.G.S. Its debut album called Woven Within was released in February 2014. 3. Ad Infinitum were a project headed by keyboardist Todd Braverman, formerly a member of the progressive rock band Cathedral. Their eponymous debut album from 1998 recreates 70s-style progressive rock inspired by bands like Genesis or Yes. Musicians: Mike "Goose" Seguso / vocals Todd Braverman / keyboards, guitars Craig Wall / guitars Ilan Goldman / keyboards, vocals Dave Beers / Bass Don DiPaolo / Drums Additionally, there was a collaboration between Peter Hook of New Order and the band Stockholm Monsters entitled Ad Infinitum. They recorded a one off 7 inch entitled Telstar that was backed with Telstar in a Piano Bar. This 7 inch was released in March of 1984. 4. Ad Infinitum were a black metal band from Austria that released one demo in 2002. Read more on Last.fm. User-contributed text is available under the Creative Commons By-SA License; additional terms may apply.
Read More