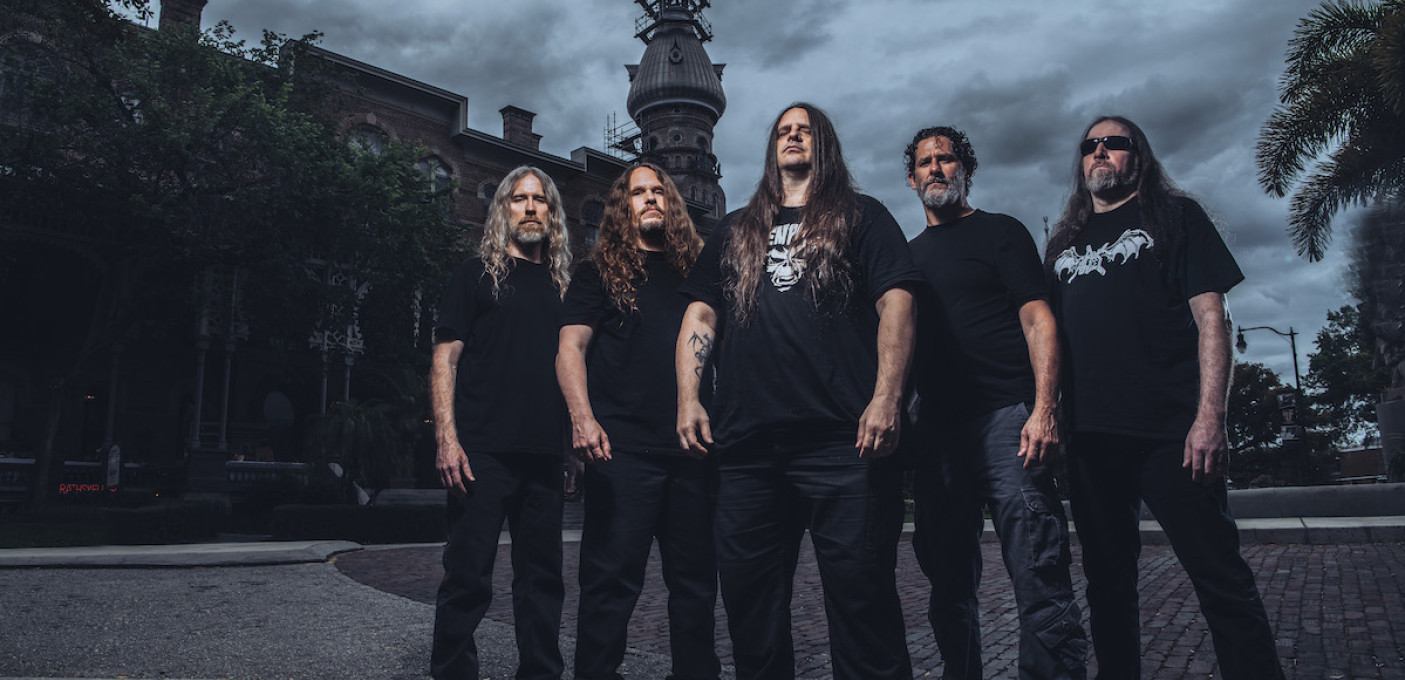 After more than twenty years, Cannibal Corpse has grown into one of the most famous death metal bands on this planet!
For fans of
Deicide / Dying Fetus / Morbid Angel / Obituary / Six Feet Under
Cannibal Corpse
Formed in Buffalo, NY in 1988, Cannibal Corpse helped found, manipulate and transcend the very boundaries of death metal beginning with the scandalously controversial debut, Eaten Back To Life. Raising the eyebrows of inquisitive metal fans and incensed parents and politicians, the record - produced by Scott Burns at the now renowned Morrisound Studios - was more extreme and confrontational than anything the Death Metal genre had ever known.
Read More
Dark Funeral
Dark Funeral is a Swedish black metal band from Stockholm, founded by guitarists Blackmoon and Lord Ahriman in 1993. They emerged during the second wave of black metal. Their lyrical themes have traditionally pertained to Satanism and anti-Christianity. Certain past and present members including Blackmoon, Ahriman, Caligula and Chaq Mol have each declared an affinity for Satanism, with Ahriman and Caligula notably being practitioners of LaVeyan Satanism. In their earlier years, their lyrical themes usually revolved specifically around depictions of Hell and Satan. After Emperor Magus Caligula joined the band, their lyrics came to focus more on blasphemy and anti-Christian rhetoric, although there have been several exceptions to this. The group have released seven full-length albums and are one of the most prominent acts in the Swedish black metal scene. Dark Funeral was founded by guitarists Blackmoon (David Parland) and Lord Ahriman in 1993. Shortly afterwards drummer Draugen and bassist and vocalist Themgoroth joined the band. Their self-titled and self-financed EP, Dark Funeral, was recorded in 1994 at Dan Swanö's Unisound studio in January. It was released on May 4, the same day the band performed their first gig at Luse Lottes Pub in Oslo, Norway, alongside bands such as fellow live debut band Gorgoroth and Marduk (who performed their first show abroad). After the recording sessions, Draugen left the band and was replaced by Equimanthorn. Read more on Last.fm. User-contributed text is available under the Creative Commons By-SA License; additional terms may apply.
Read More
Ingested
Ingested is a British brutal death metal/deathcore band from Manchester. Since their formation in 2006, the group have built a reputation as one of the most savage death metal acts to come out of the UK for a long time and have built a large fanbase within their country as well as in the US, Australia, Canada and Sweden. Their debut album "Surpassing The Boundaries of Human Suffering" was released in June 2009 and received critical acclaim from magazines such as Terrorizer (8.5/10), Metal Hammer (8/10) and Kerrang! (4/5). Following the Summer release of their album, Ingested were chosen to open up the 2010 Bonecrusher European tour, headlined by US heavyweights The Black Dahlia Murder and featuring The Faceless, Carnifex and more. Known for a vicious live show, Ingested's skull crushing mix of death metal blastbeats and hardcore breakdowns will bulldoze you violently into the ground and leave you in a crumpled heap asking for more. With appearances at Mountains of Death and Ghostfest under their belt, and support slots with bands such as Despised Icon, Beneath The Massacre, Suffocation and many more, Ingested will be rolling out on Siege Of Amida Records' "NoTOURious" 2011 European tour with labelmates Martyr Defiled and Annotations Of An Autopsy in the Summer. After spending most of 2010 writing the follow-up to "Surpassing The Boundaries of Human Suffering" Ingested are back in 2011 with "The Surreption" mixed and mastered by Mick Kenney (Bleeding Through, Anaal Nathrakh), this is a heavier, more mature and undoubtedly darker offering from the northern slam kings. • • Members • • Brad Fuller - bass guitar Lyn Jeffs - drums Jay Evans - lead vocals Sean Hynes - guitar, vocals Sam Yates - guitar, vocals http://www.facebook.com/ingesteduk Read more on Last.fm. User-contributed text is available under the Creative Commons By-SA License; additional terms may apply.
Read More