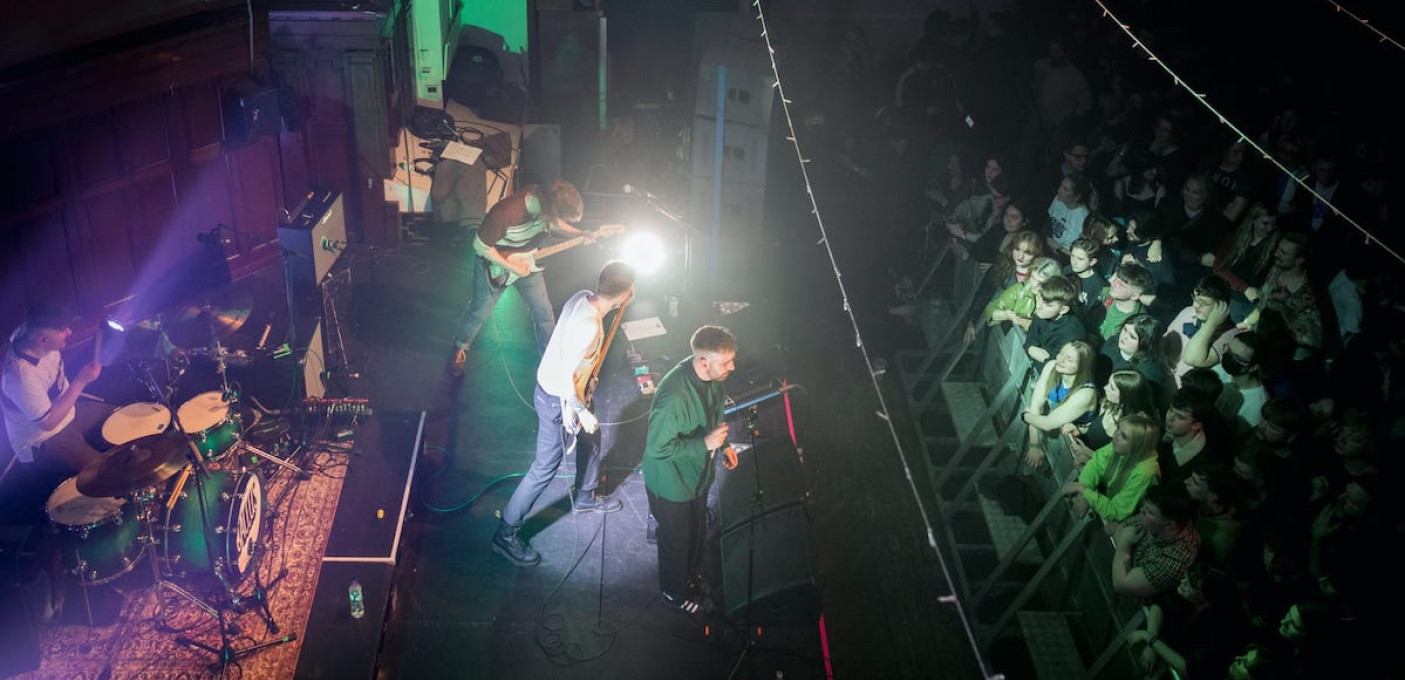 Fan of the intense post-punk from across the channel? Then this stunner of a triple bill is not to be missed!

TIJDSCHEMA
/ 19u30: deuren open
/ 20u00 - 20u40: Gallus
/ 21u10 - 21u45: The Byker Grove Fan Club
/ 22u10 - 23u00: Deadletter
For fans of
Shame / Fontaines D.C. / Yard Act / Squid / Sports Team
Deadletter
Hailing from Yorkshire, now South London rooted, DEADLETTER channel the droll fury of The Fall and the lopsided rhythms of LCD Soundsystem into a strain of vehement post-punk, exploring the darker side of existence through a lens of narrative-driven levity. With members being firm friends from birth, there is an instinctive understanding of movement and danceability to their music worth its' weight in gold, whilst never cheapening the nuance and grit of their sound.. With four singles now under their belt, the only way is upwards for DEADLETTER.

Read More
Gallus
From the moment they formed in a pub in Glasgow of the same name, Gallus have been on an unrelenting assault on the country's fertile music scene. They quickly garnered a reputation as one of the best live acts in Scotland and soon took to filling venues everywhere they went. In the space of 12 months they went from filling a 200 cap to a 600 cap venue in Glasgow's Tenement Trail Festival.
Their notoriety for live exciting live shows also saw them sell out the famous King Tuts and receive a nomination for Best Live Act in the Scottish Alternative Music Awards. However on top of their live prowess, Gallus have been making an impression in the music industry with their varied and adaptable approach to songwriting. Their catalogue stretches across the broad church of punk and post-punk music as they meander into new and exciting musical territory with each release.
Read More
The Byker Grove Fan Club
Post Macho Noise Pop trio The Byker Grove Fan Club channel their fury via angular guitars, muscular rhythms, and sardonic vocals dripping with bile and malice.
In the heat of summer, and the tatters of "the dream". Huw Allen (vocals and bass) Connor Dack (guitar) get hammered in a basement, writing cavemen riffs for meatheads. After a few weeks, a few hangovers, and the addition of Louis Lanfear (drums), the trio refine their irreverent blend of hardcore, post-punk, and Noise Rock, and somewhere in the process The Byker Grove Fan Club is born.
Read More