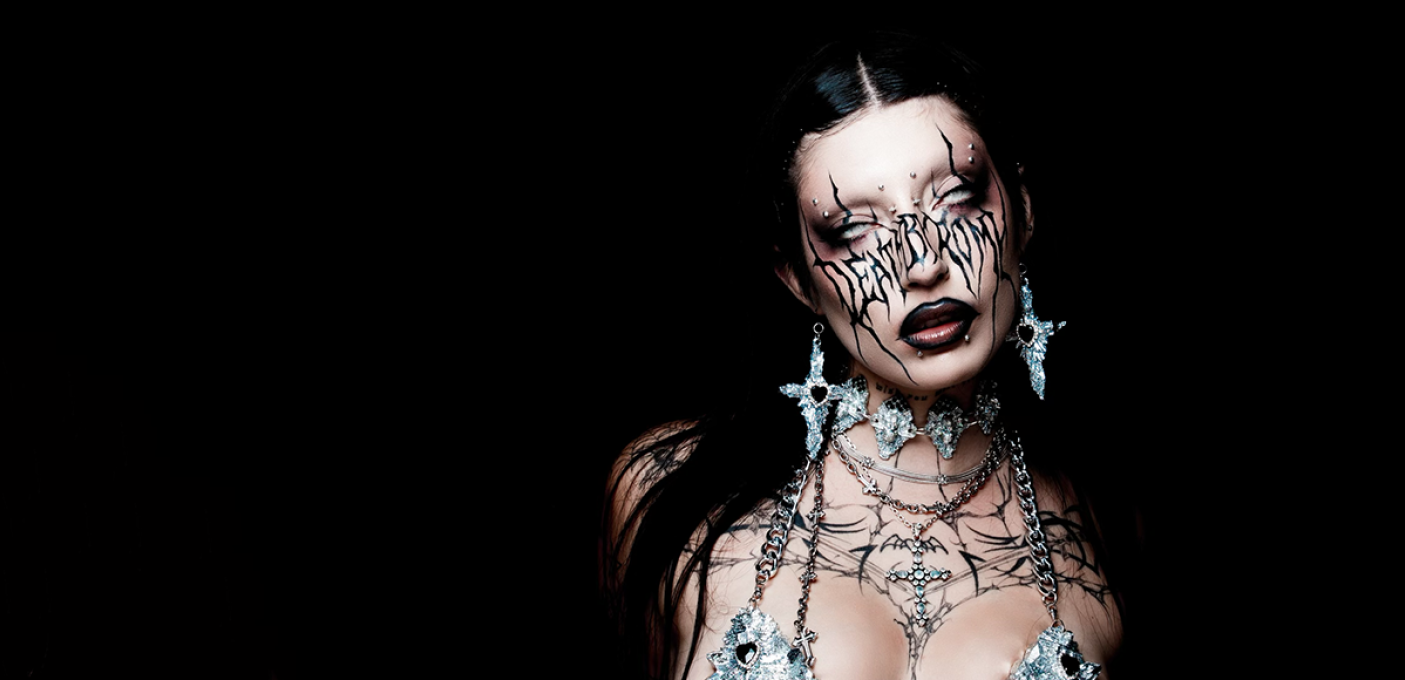 Alternative pop by the hands of singer-songwriter provocateur

This aftershow starts after the Grandson concert at about 22u30
For fans of
Grandson / Zand / TiLLie
DeathByRomy
Hot off her tour opening for Pierce the Veil and The Used across North America, Singer-songwriter and provocateur DeathbyRomy pours both pain and euphoria into her catchy but alternative music, pitting pop melodies and propulsive trap & metal beats against hypnotic vocals and deeply personal lyrics. Dropping out of high school aged 15 to pursue music, she mined inspiration from the artists she was raised on (The Beatles, Bjork, Kanye West and more). With her 2018 debut album Monsters, she soon found countless fans turning up to her shows adorned in her signature eye makeup.
In 2019 she released the Blackbear-featuring "Dangerous," as well as her EP Love U to Death, which included the standout and often-streamed track "Problems". DeathbyRomy steadily issued new songs including "Come and Play With Me" and "It's Raining Men" which were included on the soundtrack for blockbuster Promising Young Woman. This October DeathbyRomy released her first ever independent EP 'Entropy' with a packed-out release show at the Bourbon Room Hollywood. Singles 'No Mercy' and 'I Kill Everything' from the EP were featured on playlists such as All New Rock, New Noise, Fierce Femmes, Sludge, Misfits 2.0, Sinister Sounds and much more, and were covered by the likes of PAPER mag & Grimy Goods, earning her Kerrang!'s Artist of the Week and premiering on BBC Radio 1 Rock show and their Future Alternative show. In 2022 DeathbyRomy performed with Bring Me The Horizon in Malta, opened for MODSUN in the UK and played at festivals across Europe and the US.
In 2023, DeathbyRomy toured with The Used & Pierce the Veil across 14 states in the US. She will be collaborating with Adult Swim, who will be releasing two of her songs accompanied by an animated music video across their platforms including Adult Swim & HBO Max. Later this year DeathbyRomy will be hitting Europe opening for Grandson, as well as performing at some of the USA's biggest festivals.
Read More