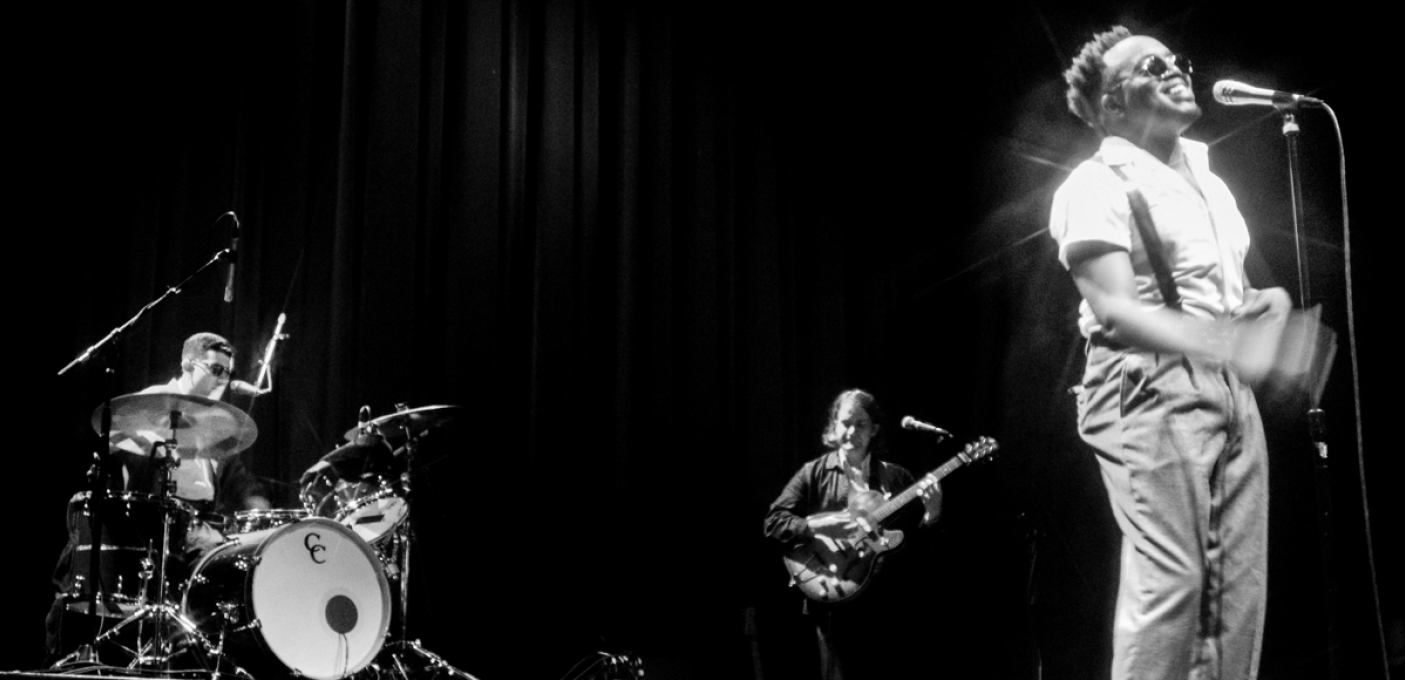 Brace yourself for the soul catharsis of soul and R&B talent Durand Jones.
For fans of
Black Pumas / Curtis Harding / St. Paul & The Broken Bones / Charles Bradley
Durand Jones & The Indications
Durand Jones & The Indications is an American contemporary R&B and soul group founded by the core songwriting trio of singer Durand Jones, singer/drummer Aaron Frazer, and guitarist Blake Rhein. Formed in 2012, the band came to prominence as part of the soul revivalist movement around the time of the reissue of their debut album in 2018. Their second album American Love Call was released in March 2019, followed by Private Space in July 2021. "My grandma always heard me singing at home, and she said, 'I'm gonna put your ass in the youth choir,'" remembers Durand Jones. "I was reluctant. But one day the organist could hear me in the choir, and said 'boy I'm gonna give you a song.' So I sang the song… the whole church just flipped out. People were running and jumping and afterwards they were giving me money and stuff. Man it was really cool. That's when the realization came that maybe I could make something of this." In the fall of 2012, Durand Jones left small-town Louisiana for the foot-hills of Indiana. Alto saxophone in tote he enrolled in the Jacobs School of Music at Indiana University. "Being a singer was never part of the plan," Jones admits. But soon enough Jones found his way in front of a rowdy rock-n-roll band belting out a rambunctious rendition of "Dock Of The Bay," to a basement full drunken undergrads. That rowdy band unfolded into the Indications – comprised of drummer, Aaron Frazer, guitarist Blake Rhein, bassman Kyle Houpt, and organist Justin Hubler. Inspired by a handful of dusty and obscure 45s baring names like the Ethics, the Brothers of Soul, and the Icemen, the Indications set out to make a record steeped in heavy drums, blown-out vocals, and deep grooves. Gathered around a Tascam 4-track cassette recorder and a case of Miller High-Life, the group spent their Sunday evenings recording into the early hours of the morning. They released their first single in 2015 and followed with their eponymous debut album in 2016. During July and August 2018, the band recorded their second album in Brooklyn, New York and focused on developing a "vocal group sound." Their record, American Love Call, was released in March 2018. In May 2021, the band announced that that their third record, Private Space, would be released July 30, 2021 and released the lead single "Witchoo". The ten track album was recorded in New York City at Diamond Mine and features a more disco and modern soul-inspired sound. The album was written and produced by Jones, Frazer, Rhein, and Okonski with contributions from bassist Michael Montgomery as well as arrangers Ginger Dolden and Peter Lanctot, harpist Brandee Younger, and Eli "Paperboy" Reed, among others. Read more on Last.fm. User-contributed text is available under the Creative Commons By-SA License; additional terms may apply.
Read More
Maia Friedman
Maia Friedman is an American multi-instrumentalist, singer and songwriter. She is a member of Dirty Projectors, Bobby, and Uni Ika Ai. Read more on Last.fm. User-contributed text is available under the Creative Commons By-SA License; additional terms may apply.
Read More