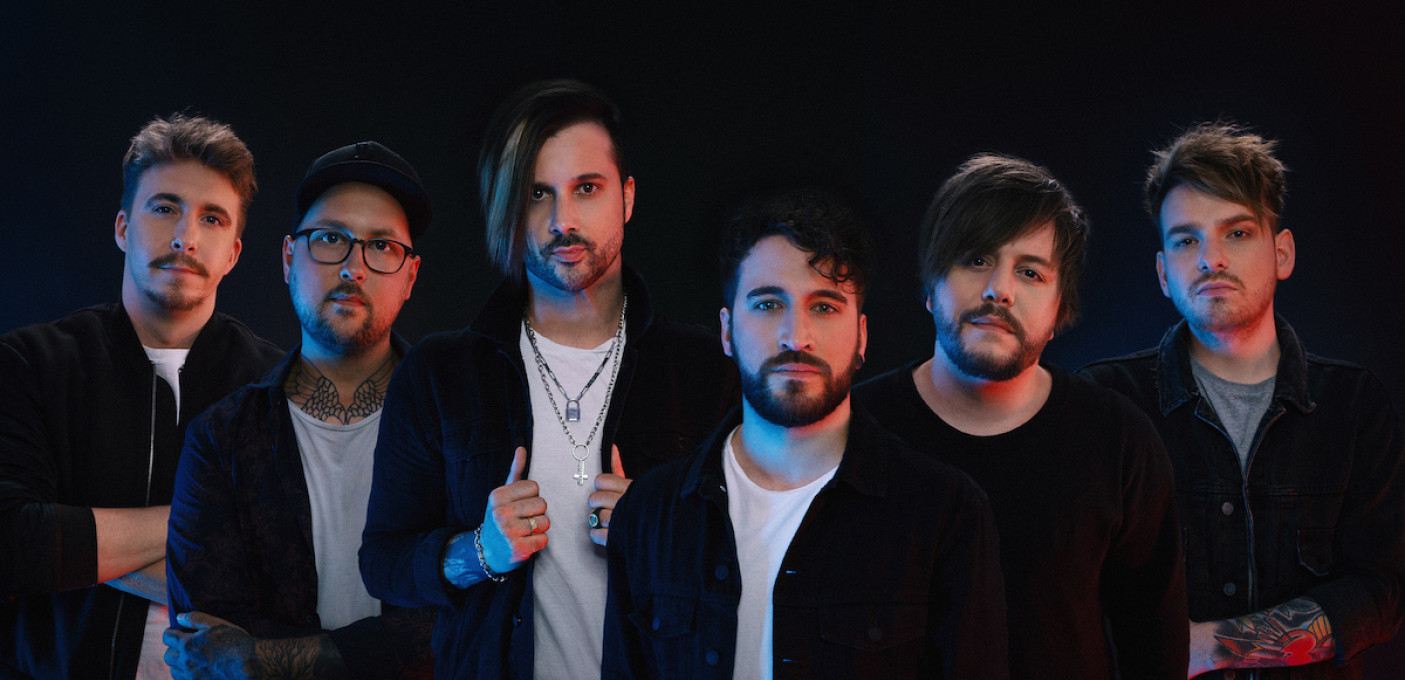 A brutal mix of metalcore and post-hardcore, with a good dose of techno. Eskimo Callboy gives its own twist to the hardcore genre.

Statement Eskimo Callboy:

"Without you, we couldn't have achieved all this at all. And we just wanted to let you know, that you are the reason for all our motivation in this time, and that we're all still on fire. And we really think, it would be the right time for us to give something back to you… a good live show for example?!

That's gonna be the biggest and craziest Eskimo Callboy tour we ever played. And even if the latest news about covid maybe already made you expect the following, it absolutely hits us so hard right now, that after a very long toing and froing, after endless discussions with bookers and promoters, we have to inform you, that we are unable to keep up the tour dates in January as they were originally planned.

Yeah sadly not. It's not only about all the relevant regulations at the moment… the most important reason is our health, yours ours… our promoters have to stick to all the covid measures, we also have to, and even more complicated is the fact that due to the fact that this is gonna be a European tour we have to reconcile all the different national measures. BUT…

And this makes our hearts a little less heavy, we put our backs into finding a good solution for you guys, and for us as well of course, to simply not have to postpone our tour too far to the future. We fought, we begged, we were a pain in the ass of many, many people. And so we could find new dates in April and May 2022 already.

And please be sure, we definitely know, that this means a big hassle for many of you maybe.., We know that some of you maybe have taken a vacation from work, booked a hotel or already planned a sleepover for their kids… and this means a big rescheduling as well. But be sure, we're in this together, and we really don't wanna loose our good vibes, that we are known for.

That's very important to us, even in bad times, in times when things don't go according to plan, we always wanna keep up the good vibes. When you look at the dates, its just 3 months later, we can do it! Let's say we get a good bit more of this pleasant anticipation we already feel.

And not to forget, the tickets of course remain valid, and also our finnish friends are still with us. So pretty much everything will stay as it was, just the dates have changed… please have a look at them real quick, we really hope this works for you!

Yeah and finally, we only can tell you once again, we absolutely cant wait to finally see you all again, and to finally enter the stage again. We hope you still stick with us, cause we're ready!"
For fans of
Asking Alexandria / One Morning Left / Crown the Empire / Wildways
Eskimo Callboy
Eskimo Callboy is a six-piece electronicore band from Castrop-Rauxel, Germany formed in 2010. The band consists of vocalist Nico Sallach who is the former lead singer of the band To the Rats and Wolves he replaced longtime lead singer Sebastian "Sushi" Biesler who left the band in early 2020. The rest of the band includes vocalist and keyboardist Kevin Ratajczak, the guitarists Daniel Haniß and Pascal Schillo, bassist Daniel Klossek and drummer David Friedrich. After Daniel, Pascal, Kevin, Daniel and former drummer Michael "Micha" Malitzki already reached some achievements with their old bands and among other things supported artists like Machinemade God or Callejon, they searched for a new challenge. At the beginning of 2010, they formed Eskimo Callboy along with Sebastian aka Sushi. Before release, tracks like Monsieur Moustache Vs. Clitcat or Hey Mrs. Dramaqueen received more than 10,000 plays on their Myspace page in the first two weeks. as of 2020 they have released five full length albums: "Bury Me In Vegas" 2012 on Redfield Records "We Are The Mess" 2014 on Redfield Records "Crystals" 2015 on Spinefarm Records, Airforce1 Records (Universal Music Germany) "The Scene" 2017 on Century Media Records "Rehab" 2019 on Century Media Records Websites: www.eskimocallboy.de www.myspace.com/eskimocallboy www.twitter.com/eskimocallboy www.facebook.com/pages/Eskimo-Callboy/136181609742349?v=wall www.youtube.com/user/EskimoCallboy Read more on Last.fm. User-contributed text is available under the Creative Commons By-SA License; additional terms may apply.
Read More
Blind Channel
Defining themselves as "Violent Pop", the six-piece band Blind Channel from Oulu, Finland, formed in September 2013 initially with two members - Joel Hokka and Joonas Porko before expanding to the current lineup seen today. The band's distinctive production offers the listeners unique rock, rap, nu-metal and electronic compositions, and a feisty package of kicking guitar riffs, without forgetting tenacious pop melodies. The band officially represented Finland in the Eurovision Song Contest 2021 held in Rotterdam in May 2021, where they placed 6th place in the grand finale with the song "Dark Side" and currently hold the record for the most streamed song by a Finnish artist in 2021. Their first single, "Save Me" was released in October 2013 and reached the Finnish radio waves in only one week, because of this Blind Channel were selected to Finnish radio station Ylex's "basement band" of the week. Iltalehti, one of Finland's biggest newspaper media's noticed the band's first music video and in a couple months the views have reached over 20, 000 views. The band initially established their profile actively by performing live shows all around Finland (including the southern metropolitan areas) and later released "Antipode" on March 21st 2013 - produced by Mikko Mäkitalo. The single's B-side "Naysayers" saw daylight one week before the actual release, and the A-side "Calling Out" premiered on a local radio station Radio City one day before the release. The premiere also included an interview with the band. The second music video came out the same day. The following Summer they played in Finnish festivals JääliCityRock, Provinssirock, Ilosaarirock, Qstock & Nummirock where they won the Wacken Metal Battle in Finland so they also played their first gig ever abroad in the world's biggest metal festival in Wacken Open Air in Germany to over 6000 people at The Wet Stage. Upon winning this competition, Finnish record label Ranka Kustannus also signed the band and they began recording their debut album Revolutions. Their debut studio album Revolutions was released on September 29th 2016. The album includes the singles "Unforgiving", "Don't", "Darker Than Black", "Deja FU" and "Enemy for Me". The band proceeded to tour throughout Finland and surrounding countries following this release. Huge pop music fans, in March 2017 they released a cover of American hip-hop duo Macklemore and Ryan Lewis's hit single "Can't Hold Us". They released their second studio album Blood Brothers on April 20th 2018. The album includes the singles "Alone Against All", "Sharks Love Blood", "Wolfpack" and "Out of Town". They also embarked on several tours both as headliners and supporting acts such as Amaranthe, Royal Republic, Simple Plan, Hollywood Undead, Enter Shikari and in late 2018 completed their first UK tour supporting All That Remains and Sevendust. The band's third studio album,Violent Pop was released on March 6th 2020. The album includes the singles "Over My Dead Body", "Timebomb (feat. Alex Mattson)", "Snake (feat. GG6 of Amaranthe)", "Died Enough for You", "Fever" and "Gun". The band had pre-booked a tour in Autumn/Winter 2020 around Sweden/Finland and festival slots as part of a touring cycle for Violent Pop which was cancelled as the Coronavirus pandemic came into affect. In May 2020 the band performed an acoustic livestream from 45 Oulu, the oldest rock bar in Oulu, Finland which included the live debuts of Violent Pop album tracks "Feel Nothing", "Enemies With Benefits" plus a tribute cover of Linkin Park's "Numb" in honour of the late Chester Bennington. In July 2020, they released a studio version of Anastacia's "Left Outside Alone" and accompanying music video to critical success. After meeting DJ and producer Aleksi/Alex Mattson several years prior after Joel approached him to potentially remix a Blind Channel track, the band soon after discovered they had a lot of similar musical tastes and began collaborating, eventually releasing "Timebomb" together which featured as a single on the band's third studio album Violent Pop. After a live festival show in October 2020 featuring Aleksi on sample/percussion, the band officially asked Aleksi to join Blind Channel as a full-time member and they became a six-piece. In February 2021 the band participated in the Finnish national selection for the Eurovision Song Contest 2021 with the modern nu-metal track "Dark Side". They won the selection with 54.3% of the vote (the highest in UMK history) and in May 2021 represented Finland in the Eurovision Song Contest, finishing in sixth place with a total of 301 points. Blind Channel received 218 of their total points from televoting, while 83 points were received from juries. The band painted their middle fingers red for their performance of "Dark Side," after being informed that they could not lift a middle finger to the audience on the Eurovision stage due to the shows family friendly nature. On 19 May 2021 the band signed to Century Media/Sony Music. In June 2021 the band recorded a collaboration of their song "Dark Side" with fellow Finnish artist Lauri Ylonen of The Rasmus. The band has stated that a follow-up single to "Dark Side" has been mixed and will be released late Summer 2021. On July 4th 2021 the band announced that "Dark Side" is currently the most streamed Finnish song of 2021 with over 700,000 streams to date, beating out larger Finnish bands such as The Rasmus and HIM. The band have also announced a 15-date Finnish headline tour across July-August 2021. In early 2021 the band shared that they had already began writing new material and in June 2021 shared footage from their studio showing them recording material for a currently untitled forth studio album set for release in Spring 2022.
Read more on Last.fm. User-contributed text is available under the Creative Commons By-SA License; additional terms may apply.
Read More
One Morning Left
One Morning Left is a band from various places of Finland. The band was formed in the beginning of 2008 and soon recorded Demo 2008. Later on, they released their debut EP in December 2008, titled Panda <3 Penguin. In 2009 they released Panda <3 Penguin Vol. 2 containing 3 new tracks, and in December 2009 their update EP music video featuring 'BD_L3ftoverZ! 2009'. They released their debut album "The Bree-Teenz" in August 2011. Their second album My Sceneration was released in February 2013. The album debuted at #45 on the Finnish album charts. In May 2013 Tuomas "Tumppi" Teittinen has decided to left OML due to lack of motivation. Band will continue as a quartet. Welski's new job is BASS/PROGRAMMING! In March 2014 Tomi"Tomppa"Takamaa has decided to left the band. One Morning Left have finally released a new single, "The Star of Africa".Video : http://www.youtube.com/watch?v=Ixs4SAHMmOA&feature=youtu.be This is the first release since the band's previous album, "My Sceneration" that was released in February 2013. The album debuted at #45 on the Finnish album charts. Their debut album "The Bree-Teenz" (08/11) debuted at #30 on the charts. You can witness One Morning Left live next at the Helsinki Music Marathon at On the Rocks 25.10.2014. Official sites: www.onemorningleft.com New members added : Leevi Luoto - Guitar/Vox Niko Hyttinen - Drums Current members: Mika "Miksu" Lahti - lead vocals (also in Cold Feet Control) Ari Levola - guitar Veli-Matti "Vesku" Kananen - keyboards Niko Hyttinen - Drums Leevi Luoto - Guitar/Vox Past members: Tomi"Tomppa"Takamaa - drums/clean vocals Teemu Rautiainen - bass Tuomas "Tumppi" Teittinen - bass (April 2010 to 21 May 2013) Oula Maaranen - guitar Touko Keippilä - keyboards Roni Harju - guitar Valtteri Numminen - drums
Read more on Last.fm. User-contributed text is available under the Creative Commons By-SA License; additional terms may apply.
Read More