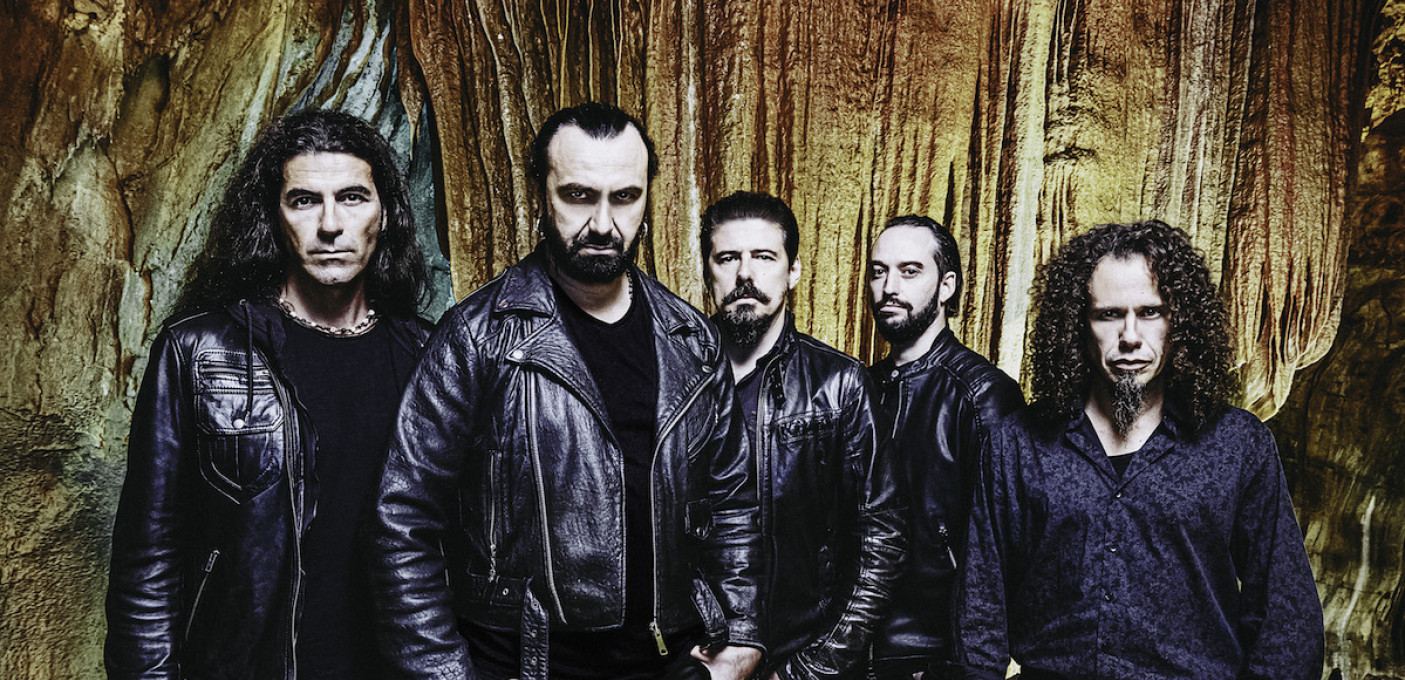 The 'Ultima Ratio Tour 2022' also has a stop in Trix, with metal giants Moonspell and Insomnium!

TIMETABLE
/ 5.00 pm: doors open
/ 5.30 pm - 6.00 pm: Hinayana
/ 6:20 pm - 7:00 pm: Wolfheart
/ 7:20 pm - 8:05 pm: Borknagar
/ 8.25 pm - 9.25 pm: Insomnium
/ 9.45 pm - 10.45 pm: Moonspell

UPDATE (August 5): Unfortunately, My Dying Bride withdrew from the Ultima Ratio Fest Tour, which includes the stop in Trix on October 1, 2022. Insomnium has been added to the bill and will headline along with Moonspell.
Moonspell
Moonspell is a Portuguese gothic metal band with elements of black metal. The group, founded in 1989 originally as Morbid God, was renamed Moonspell in 1992. With the release of their first album Wolfheart in 1995, the band quickly gained status and became one of the most recognizable metal bands from Portugal. The band started out as folk-tinged black metal. In 1992, still under the name Morbid God, they released the promo track "Serpent Angel". In 1993, vocalist Fernando Ribeiro, drummer Mike Gaspar and bassist João Pedro released the demo Anno Satanæ under the name Moonspell, which caught the attention of French label Adipocere. It was for Adipocere that Moonspell released in 1994 a mini-album titled Under the Moonspell. The record was a considered a landmark in Portuguese metal and sold more than 5000 copies, becoming Adipocere's best-selling record at the time. Shortly after the release, they played with Cradle of Filth in a concert in Lisbon. Breakthrough (1995-1997) After the release of mini-album Under the Moonspell, Moonspell signed with Century Media for six CDs. Wolfheart was recorded in Germany with producer Waldemar Sorychta and was released in 1995 and was followed by a European tour. Although the album had little or no recognition at the beginning, it was later recognized as a "milestone" by heavy-metal reviews site Metal-Observer.com. During the tour, guitarist Mantus quit the band and was replaced by Ricardo Amorim. Irreligious came out in 1996 and was recorded again with producer Waldemar Sorychta. While previous album was considered black metal, this one fell into the genre of gothic metal. The song Opium became the first Moonspell single. It quoted one of Portuguese poet Fernando Pessoa's heteronyms, Álvaro de Campos, on his poem "Opiário" and its music video, featured the character of poet writing in a bar with the band playing. Along with the release of the album in a convent, the Convento do Beato, there were factors that helped the band selling 10.000 copies of the album in their homeland. After conflicts with the band involving lawsuits, bass player Ares left the band and was replaced by Sérgio Crestana. Experimenting (1998-2000) Sin/Pecado (Pecado means 'sin' in Portuguese) was released in 1998. It had a bigger experimental nature than its predecessors. The song 2econd Skin was released as a single. At the time they released the one and only Daemonarch album, Hermeticum. Daemonarch was a side project composed by all Moonspell members but drummer Mike Gaspar. The album was seen as a return to their black metal roots and its lyrics were all written by singer Fernando Ribeiro between the age of 14 and 16. Sin/Pecado was followed in 1999 by The Butterfly Effect, recorded in London and produced by Andy Reilly. This album is considered to be very experimental in nature as well. Featuring "down-tuned guitar riffs, eerie synthesizer passages", the album was mainly composed by guitarist/keyboard player Pedro Paixão and was not very well received by metal critics. "Darkness and Hope" and "The Antidote" (2001-2005) Darkness and Hope was released in 2001 and was produced by Hiili Hiilesmaa, producer of Sentenced or HIM. The album reached 79th on German charts and special editions included covers of Madredeus, Ozzy Osbourne's Mr. Crowley and Joy Division's Love Will Tear Us Apart. Nocturna was released as a single and music video. In 2003, the band released The Antidote, with Niclas Etelävuori from Amorphis playing as a session musician on the bass guitar. The album was released with a book with the same title written by Portuguese writer José Luís Peixoto. Both the CD and book share the same concept and story and each song in the CD is sister to a chapter in the book that enhances the story in the lyrics. "Everything Invaded" was released as a single and music video. The band toured extensively around the world, playing at Rock in Rio Lisbon in 2004, a concert that brought them to more mainstream attention in Portugal. From this album on, the tours feature Aires Pereira on the bass. In early 2004 the band recorded a cover of the jazz standard "I'll see you in my dreams" for the soundtrack of a Portuguese horror movie of the same name. There is an official music video of this song featuring footage from the film itself. "Memorial", "Under Satanae" and "Night Eternal" (2006-present) Memorial was released in 2006. Recorded with the producer of their first three albums Waldemar Sorychta, who also recorded the bass guitar parts, it was the first to be released under their new label SPV Steamhammer. The album topped the Portuguese album chart on its first week and also broke into the German Top 100 at number 68. Memorial achieved gold status in Portugal after selling 10,000 copies, making Moonspell the first Portuguese heavy metal band to achieve that. Although the album is heavier than the previous, it was very well received and its release was featured in various Portuguese news broadcasts. A new release of the album was released in December 2006 and featured a DVD with live performances and the music videos made for the album. Music videos for "Finisterra" and "Luna" were released. On November 2, 2006, Moonspell won an MTV Europe Music Award in the category of Best Portuguese Act. The Great Silver Eye, a best-of album, was released on June 26, 2007. Recently, Moonspell released Under Satanæ, a re-recording of early songs. The last album has been called "Night Eternal". It was released on May 16, 2008. Moonspell is slated to tour Danzig's 2008 incarnation of his Blackest of the Black tour. After a lot of legal troubles, Moonspell released their first Dvd "Lusitanian Metal" on December 8, 2008 in 3 different versions. The most complete one is composed of 2 Dvds, a Cd and a small booklet with photographs and introduction to the footage written by some of the members of the band. The first Dvd contains a show they played in 2004 in Katowice, also recorded on the Cd, a collection of all their videos until "Everything Invaded" and an interwiew shot in a Graveyard. The second dvd presents some live footage took from different tours from 1992 to 2005. Current members Fernando Ribeiro - vocals (1989-present ) Mike Gaspar - drums (1992-present ) Ricardo Amorim - lead guitar (1995-present ) Pedro Paixão - keyboards / rhythm guitar (1994-present ) Aires Pereira - bass (2004-present ) Previous members Baalberith - drums (1989-1992) João Pedro (Ares / Tetragrammaton) - bass (1989-1997) Luís Lamelas (Malah / Fenrir) - guitar (1992-1993) J.M. (Tanngrisnir) - guitar (1993-1995) Mantus/Duarte - guitar (1990-1995) Sérgio Crestana - bass (1997-2003) Discography: 1992 - Serpent Angel (demo) 1993 - Anno Satanae (demo) 1994 - Under the Moonspell 1995 - Wolfheart 1996 - Irreligious 1997 - 2econd Skin (disc 1) (Single w/ bonus live CD) 1997 - 2econd Skin (disc 2) (Single w/ bonus live CD) 1998 - Sin Pecado 1999 - The Butterfly Effect 2001 - Darkness and Hope 2003 - The Antidote 2006 - Memorial 2007 - The Great Silver Eye (Best Of) 2007 - Under Satanae (The first three releases re-recorded) 2008 - Night Eternal 2012 - Alpha Noir / Omega White 2015 - [algum artist=Moonspell]Extinct Dvds 2008 - Lusitanian Metal www.moonspell.com
Read more on Last.fm. User-contributed text is available under the Creative Commons By-SA License; additional terms may apply.
Read More
Insomnium
Insomnium is a melodic death metal band from Joensuu, Finland. They are influenced by doom metal and progressive metal. Their lyrics often deal with subjects such as darkness, mourning, loss, pain, and nature. Insomnium began to take shape during the bleak spring of 1997. In the quiet town of Joensuu, located in the easternmost part of Finland, four young men were forming a fierce metal band. From the beginning it was clear that this band would make music that was brutal yet melodic, full of contrasts and changing atmospheres. They took what they regarded as the best aspects of their favourite bands and moulded these influences into a new kind of entity. The result was the marriage of melodic Scandinavian death metal and traditional Finnish tunes. The lyrics turned out to be sorrowful, dream-like tales of love and death that usually took place amidst the Finnish nature. Influences were taken from Finnish folklore as well as world literature. After two years of intensive training Insomnium made their first demo cd, which received praises from all over the world. The second demo was made the following year and gained a lot of attention as well. This time, record companies got interested. In the beginning of 2001 founding members, Ville Friman (guitar), Markus Hirvonen (drums) and Niilo Sevänen (bass/vocals), attached a new guitarist, Ville Vänni to the band. Now Insomnium was stronger than ever and ready to rise to the next level. A deal with Candlelight was signed the same spring and recording of the first album began in the summer. - In the Halls of Awaiting - was released in April 2002 and it introduced a band that had evolved in many ways. The legacy of Scandinavian death metal was still the core of the music but new layers had appeared around it. There were more nuances and depth in the songs, and the music was more versatile and challenging than before. Progressive shades had crept into the songs, and in many ways the band had stepped aside from the mainstream of melodic death metal. Debut album received excellent reviews in many magazines around the globe, especially in Germany, Finland and North America. The recording of the second album began in summer 2003. The process was somewhat painful but finally in December the new album was ready. - Since the Day It All Came Down - continues the development that the first album began. Songs are more versatile and surprising, progressive influences are ever clearer. Some tracks may even be described as experimental. But the straightforward side of the music hasn´t gone anywhere, since catchy guitar-harmonies, crushing riffs and soothing acoustic interludes are all still there. Melodies are still the most essential element in the music of Insomnium, but this time the tunes are even more melancholic and wistful than on the debut album. This is a sad and dreary album, heavier and gloomier than the first one, and undoubtedly more challenging. So when you take this path, keep in mind that it takes a while before your eyes get used to the dark... ..And darker it got. With their third release, - Above The Weeping World -, the music got more agressive, harder, louder and the progressive elements grew once again. The first European tour is over, and Insomnium is once again a step closer to world domination. Their fourth studio album "Across The Dark" was released on the 7th of September, 2009 via Candlelight Records. Their new album "One for Sorrow" was released October 2011. On September 9th, 2011 Insomnium released the music video "Through The Shadows" from their 2011 album One For Sorrow. In November 2011 Insomnium embarked on their first headlining European tour, with support coming from Before The Dawn and MyGRAIN. During April 2012 Insomnium returned to tour the UK as the main support act for British metal band Paradise Lost. The tour was almost two weeks long and played all over the country. Vreid was also present on the tour as the opening act. Official website: http://www.insomnium.net Read more on Last.fm. User-contributed text is available under the Creative Commons By-SA License; additional terms may apply.
Read More
Borknagar
Borknagar is a band from Bergen, Norway founded in 1995 by Øystein Garnes Brun. The band began as a black metal/viking metal band and quickly adopted a more progressive metal style after their first album. As such, the band's most known style would be that of progressive black metal, with most of their albums taking from this style. Borknagar's lyrics often deal with philosophy, paganism, nature, and the cosmos. Øystein Brun stated once that the name was inspired by a Scottish legend about a man who climbed Lochnagar, a mountain in Scotland. Borknagar rose out of the ashes of the Norwegian death metal band Molested when then-member Øystein G. Brun became tired of the brutal aspects of the band's music. Øystein formed Borknagar to explore a more melodic outlet of expression; he wrote all of the music and lyrics and gathered together an all-star group of black metal musicians to play in his band. Well-known musicians of the black metal scene (such as Infernus of Gorgoroth, Grim of Immortal and Gorgoroth, Ivar Bjørnson from Enslaved, Garm of Ulver, Head Control System, and ex-Arcturus) joined the project, bringing immediate attention to Borknagar. The band never even recorded a demo – they simply asked for a record contract on Malicious Records and were granted their request. Borknagar's majestic, melodic sound was instantly liked by many and received positive press attention. Borknagar has released ten albums to date. Their self-titled debut album features lyrics in Norwegian; all subsequent albums have featured lyrics written in English by both ICS Vortex from Arcturus and Dimmu Borgir and later by current singer, Vintersorg from Otyg and his eponymous band (Vintersorg). All of the band's records (excluding the original pressing of the debut album via Malicious Records) have been released by the Century Media label. Borknagar has toured with various bands, including the well-known Cradle of Filth. Simen Hestnæs rejoined the band in 2010. Since then he and Vintersorg have shared lead vocal duties. Discography: 1996 - Borknagar 1997 - The Olden Domain 1998 - The Archaic Course 2000 - Quintessence 2001 - Empiricism 2002 - Urd 2004 - Epic 2006 - Origin 2010 - Universal 2012 - Urd 2016 - Winter Thrice 2019 - True North Members: Current Members * Vintersorg (Andreas Hedlund) - Vocals * Øystein G. Brun - Guitar * Lazare (Lars Nedland) - Keyboard * Jens Ryland - Guitar * ICS Vortex (Simen Hestnæs) - Vocals, Bass * Baard Kolstad - Drums Former Members * Garm (Kristoffer Rygg) - Vocals * Asgeir Mickelson - Drums * Kai Lie - Bass * Infernus - Bass * Ivar Bjørnson - Keyboard * Grim (Erik Brødreskift) - Drums (Causa mortis: Suicide. 1969 - 1999.10.04.) * Tyr (Jan Erik Tiwaz) - Bass - Session Member for Origin album * David Kinkade - Drums Read more on Last.fm. User-contributed text is available under the Creative Commons By-SA License; additional terms may apply.
Read More
Wolfheart
There are multiple artists sharing the name Wolfheart: 1. Wolfheart is a Finnish melodic death metal band from Lahti, formed in 2013 by Tuomas Saukkonen. It began as a solo project after Saukkonen disbanded all of his other bands: Before the Dawn, the Final Harvest, Black Sun Aeon, RoutaSielu and Dawn of Solace; in order to start from scratch. Their debut Winterborn was released on October 11th, 2013 with Saukkonen playing all of the instruments. It was then followed by the release of their first single, "The Hunt" and then the release of the video clip for the track "Routa, Pt.2" on September 24th, 2013. By June 30th, 2014 the project had evolved into a full band. Their second full-length, Shadow World, was released on August, 21st via Spinefarm Records with the album's lead digital single, and a video clip for the track "Aeon of Cold" following in July, 10th. 2. Wolfheart was an Icelandic black metal band from Reykjavík, formed in 2003 by H.V Lyngdal. The band split up in 2006. See also: Wormlust. 3. Wolfheart was a Finnish melodic black metal band from Raahe, formed in 1997 by former members of Charon. Read more on Last.fm. User-contributed text is available under the Creative Commons By-SA License; additional terms may apply.
Read More
Hinayana
Hinayana is a melodic metal project from Austin Texas - songs written and recorded by Casey Hurd, who is currently hard at work to get a full band together to play live, write, and record more material this next year. Hinayana's first demo has been released in August 2014, and is free to stream and download - https://hinayana.bandcamp.com/releases Check out Hinayana on Facebook at https://www.facebook.com/hinayanamusic Read more on Last.fm. User-contributed text is available under the Creative Commons By-SA License; additional terms may apply.
Read More