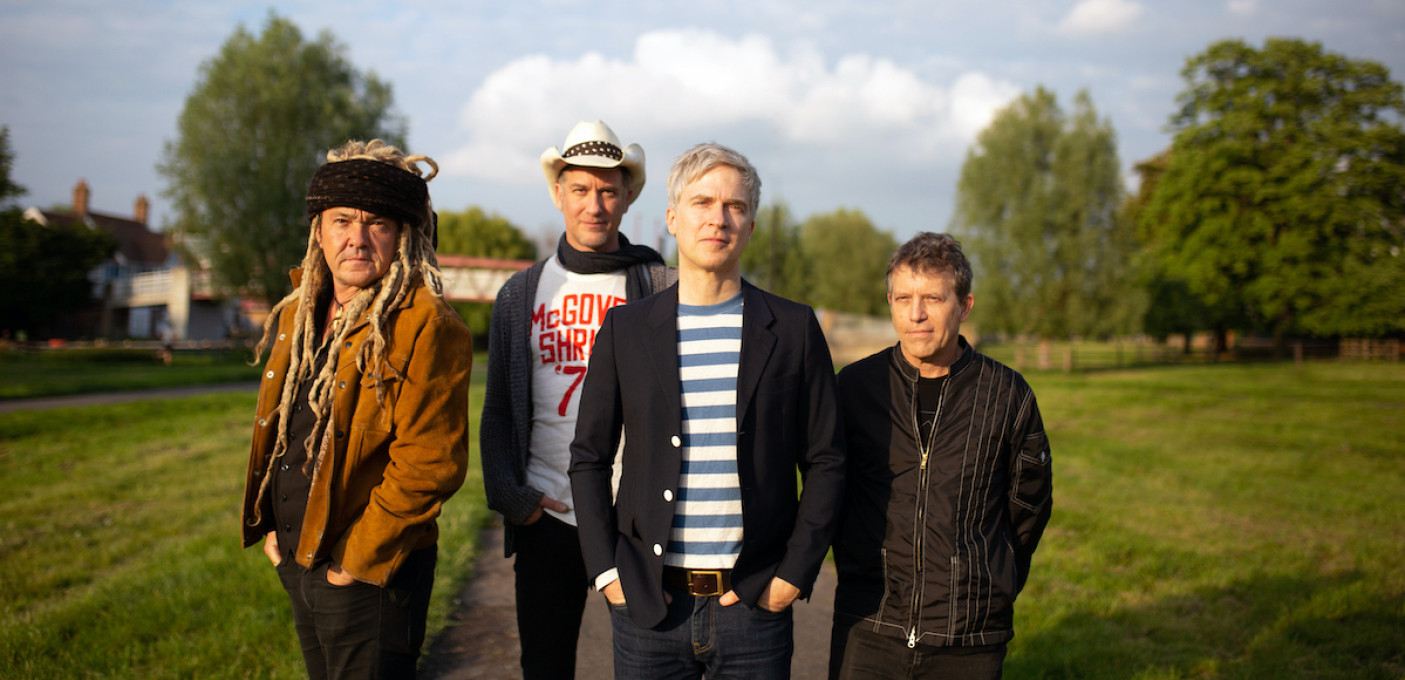 With their balanced pop songs bathed in that typical indie rock sound, Nada Surf never disappoints.

TIMINGS
/ 19u30: Doors
/ 20u00 - 20u30: Kevin Devine
/ 20u45 - 22u30: Nada Surf
For fans of
Guided By Voices, Sleater-Kinney, The Lemonheads, Weezer, Death Cab For Cutie
Nada Surf
Nada Surf is an American alternative rock group that was formed in 1992. The New York band consists of Matthew Caws (guitar, vocals), Ira Elliot (drums, vocals) and Daniel Lorca (bass, vocals). Their debut album, titled 'High/Low', came out on June 18, 1996 and featured production work from Ric Ocasek of The Cars The band is best known for the song "Popular", released as a single from their aformentioned debut. The song reached #11 on the US Billboard Modern Rock Tracks chart and propelled the album itself to #63 on the Billboard 200. Each of the verses in "Popular" are extracted from the 1964 guide 'Penny's Guide to Teen-Age Charm and Popularity', a work by former teen television actress Gloria Winters, and the lyrics are sarcastically spoken, with a calm, deadpan voice used initially that gradually builds Kinison-style in teen angst and rage. The groups follow-up effort, an album titled 'The Proximity Effect', failed to garner as much attention due to music industry shenanigans. The band explains on their official website: Nada Surf recorded The Proximity Effect in 1998 with Fred Maher (Luna, Lou Reed, Matthew Sweet). It was a mighty fine record. Elektra [now part of Atlantic], claiming they "didn't hear a single," asked the band to go back in the studio to hunt for one. As this was months after they'd handed the record in, the band refused and were dropped. It's pretty safe to say, though, that Elektra didn't appear to be "listening" very hard. The Proximity Effect was released as scheduled in Europe. Critics loved it and fans bought it. Elektra still didn't care, but the band still did. So after wrestling the rights back, Nada Surf released The Proximity Effect stateside in 2000 on their own label, MarDev Records, and toured accordingly... After a three-year wait, the group released Let Go through Barsuk Records to positive reviews. The song "Inside of Love" received some airplay and even reached #73 in the United Kingdom, a feat which neither "Popular" nor the other two previously released singles from Let Go achieved. On the strength of the single, the album reached #31 on Billboard's Top Independent Albums chart. The band's fourth album, The Weight Is a Gift, was released in Germany on September 5, 2005, by City Slang Records, in Japan/Australia September 12th and in the US September 13th by Barsuk, and in the rest of Europe September 19th by V2/City Slang. It was produced by Chris Walla of the band Death Cab for Cutie, Louie Lino and Nada Surf. The album's lead single is "Always Love." In 2008, Lucky was released. In 2010 the band returned to the scene triumphantly with the cover-album If I Had a Hi-Fi, revealing a diversity in source material whilst re-moulding it into trademark Nada Surf songs. The band announced a new record will be released in January, 2012 called " The Stars Are Indifferent to Astronomy." The first single is called "When I was Young" and is available free to download from the band's website. On Oct 24th, 2011, the song was also featured as an NPR "Song of the Day"
Read more on Last.fm. User-contributed text is available under the Creative Commons By-SA License; additional terms may apply.
Read More
Kevin Devine
Kevin Devine is an American songwriter and musician from Brooklyn, New York, who is known for alternately introspective and political lyrics and melodic acoustic guitar tunes. He cites his influences as Bob Dylan, Elliott Smith, Guns N' Roses, Brother Paramo and Nirvana, among others. He grew up in Brooklyn and Staten Island, and has spent significant time in Manhattan and Queens as well. Devine graduated Fordham University at Lincoln Center in 2001, majoring in journalism. He also played in an indie/punk/emo band called Miracle of 86 after the (Miracle) New York Mets. Even before that, he played with a popular band in the local Staten Island scene called Delusion. At Fordham he was able to hone his acoustic solo skills by playing at various open-mic and college events which made him very popular among the student body. During this time he also appeared in regular stints at the Wetlands Preserve. Although still relatively unknown, Devine gained some popularity with his 2003 album, Make the Clocks Move. Newer songs reflect Devine's political views and the recent death of his father to a stroke. He has recorded records for Immigrant Sun Records and Triple Crown Records and has worked with Brooklyn based producer Mike Skinner, who is also credited as the drummer on his solo records as well as the drummer for Miracle of 86. He signed with Capitol Records, who released his fourth album, Put Your Ghost to Rest, on October 17, 2006. Only four months after his major label debut, Devine was dropped from Capitol Records due to EMI merging Virgin and Capitol Records. Devine was able to gather a strong fan base as a result of his exposure through touring with Brand New. First appearing as their opening act in their 2004 spring tour, Devine made a small splash among their fan base. However, opening for them again in April 2006, and joining their 2007 Spring tour with Manchester Orchestra, Kevin's following was multiplying by the day. (Kevin also opened for Brand New as a surprise act at the Triple Crown Records 10th Anniversary Concert.) Devine's late 2007 touring schedule included a tour with close friend Jesse Lacey (of Brand New) and Grace Read at the end of July through early August, followed by a short trip to London, a spot on the Austin City Limits Festival, and a tour with Chin Up Chin Up throughout Germany. In October 2007 he toured with Andy Hull from Manchester Orchestra and Owen. Kevin posted numerous demos via his MySpace profile in late 2007/early 2008 and after negotiations with Capitol records, "Put Your Ghost To Rest" was re-released on April 20, 2008 by Procrastinate! Music Traitors. Kevin toured Europe with Jenny Owen Youngs and Tournaments in May and other tours followed throughout 2008 with Jesse Lacey, Rachael Yamagata and Matt Pryor in August and September 2008.[1] In late 2008, Kevin announced his new album Brother's Blood would be released in early 2009 on Favorite Gentlemen records, as well as a tour with Manchester Orchestra and the I Could Be With Anyone EP in support of both. Read more on Last.fm. User-contributed text is available under the Creative Commons By-SA License; additional terms may apply.
Read More