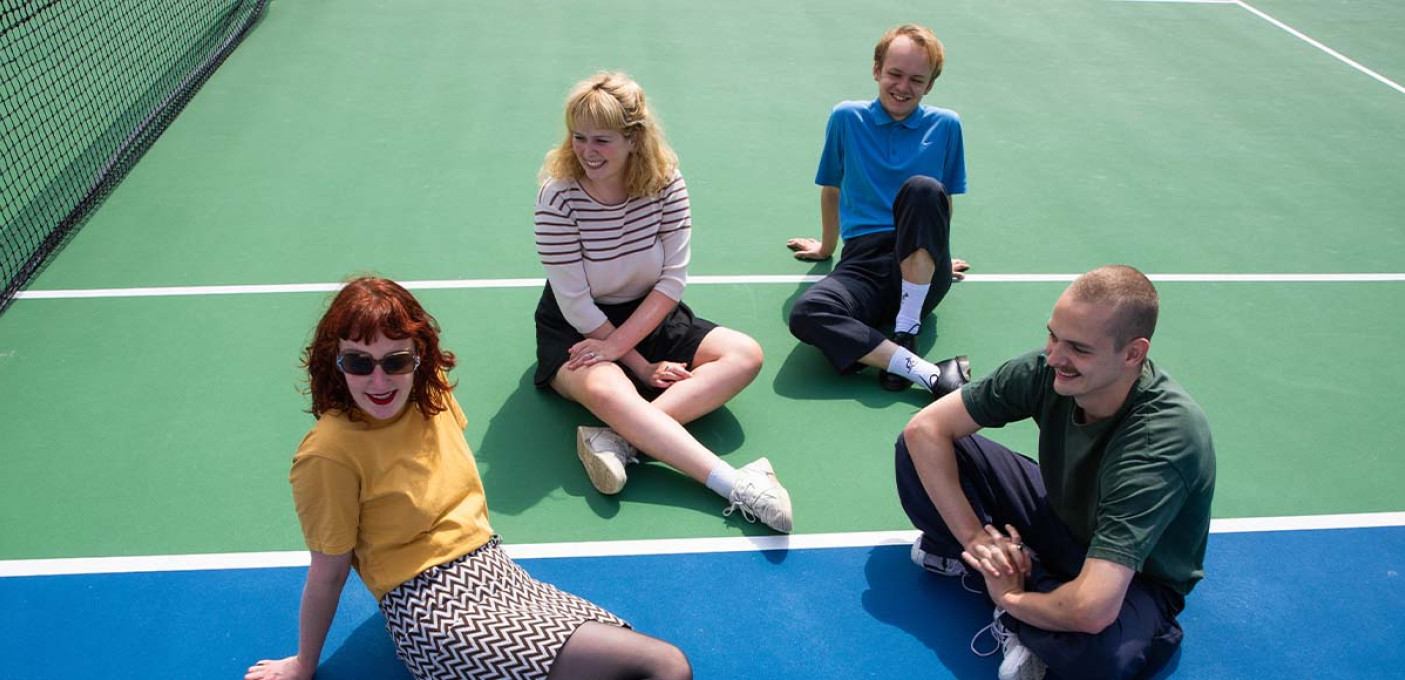 Indie pop quartet from Amsterdam who have 'a Cobain-like gift to say a lot with little', according to Rolling Stone.

TIMETABLE
/ 7.30 pm: doors open
/ 8.15 pm - 8.45 pm: Mayorga
/ 9.15 pm - 10.30 pm: Pip Blom
For fans of
Wet Leg, The Breeders, Sunflower Bean, Porridge Radio, Shame, Dream Wife
Pip Blom
25-year-old Amsterdam-based Pip Blom started writing, recording and releasing her own indie-pop tunes with a twist in 2016. Early songs, which were simply uploaded to the internet, quickly amassed thousands and thousands of plays - prompting Pip to recruit a band and start playing them live. In stepped brother Tender Blom on backing vocals and guitar, Darek Mercks on bass and Gini Cameron on drums, with Pip herself fronting on guitar on vocals. Since, the band have played hundreds of gigs, rising from small pubs to the European festival circuit with for example performances at Glastonbury and Lolapalooza. 
 The band's energetic live show quickly pricked the ears of international press and radio: BBC Radio 1, NME, DIY, Dork, Brooklyn Vegan, Double J, Rolling Stone: ('a Cobain-ish gift for saying a lot with a little') and NPR ('a burst of frenetic joy to lift you up'). BBC 6 Music even A-listed 6 (!) of Pip's singles.
Boat made it to No 1 in the Independent Album Breakers Chart and Pip Blom played 3 gigs at Glastonbury 2019.
Some reactions on debut Boat and second album Welcome Break:
- Rolling Stone (4/5): "An instant classic" - NME (4/5): "The Amsterdam four-piece build on the winning indie-pop foundations of their debut with an effort that fizzes with confidence and self-belief" - Mojo (4/5): "Blom's buoyant indie-rock proves hard to resist" - Uncut (4/5): "Dutch foursome perfect Britpop 2.0"
Read More
Mayorga
Mayorga is the new project of guitarist Helena Mayorga Paredes. She discovered the boundless freedom of songwriting after graduating in the pop/rock direction from the Conservatory in Ghent (FYI: as the first female guitarist in Belgium). After years of stage experience with bands such as Pavlove, Aarde Aan Daan and Noémie Wolfs, she is now coming out with her solo project.
The half-Chilean guitarist brings a melancholic mix of lo-fi indie pop and raw guitar songs. In May 2022 she released her debut single 'Weekend Lover'.
Mayorga is currently working on her next single, which will be released in September, and will be followed up by an EP a few months later. Her songs originate in her bedroom, or somewhere on the way to her bedroom. Then she goes into the studio to record the songs with her producer Charline D'hoore. If Mayorga was a hashtag, it would undoubtedly be #DIY. And then it's mainly about playing the guitars, drums, bass and percussion yourself. Also the distorted vocals are hers.
Read More