Corona guidelines in Trix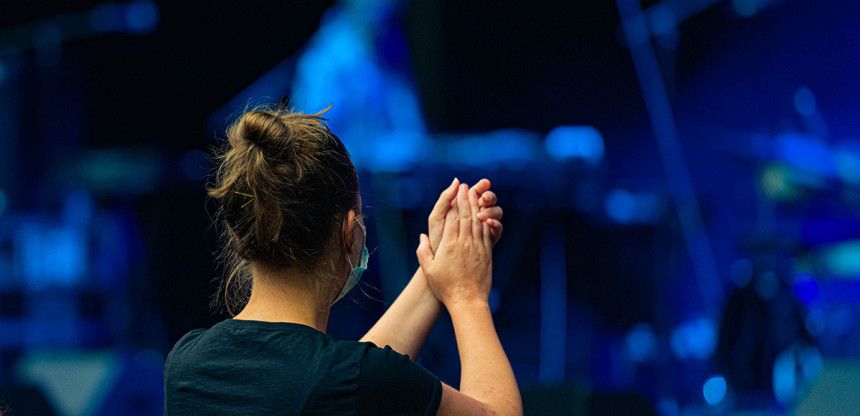 The safety and health of our public is our absolute priority. That is why a lot of measures have been taken in Trix and we respect all corona rules. What do we do and what does all this mean for your visit to Trix?
/ GENERAL
From the age of 12 you are obliged to wear a mouth mask in Trix. Have you forgotten your mouth mask? Then you can buy one in our Trix Café for € 2.60. Attention! This is a disposable mask, we recommend that you bring your own reusable mask as much as possible.
Always stick to the outlined circulation plan with adapted walking routes and signage.
You are required to register via QR on arrival (as part of the contact tracing). This does not apply to a concert visit where you bought tickets in advance, because that is your registration.
Disinfect your hands upon arrival with the covid-killer that you can find everywhere in our building.
The 'high touch' surfaces are disinfected several times a day by our cleaning teams (including door handles and light switches).
All public areas in Trix are sufficiently ventilated every day.
In the Trix Café it is not allowed to order drinks at the counter. You must take a seat at one of the tables (with your bubble) and a Trix employee will then take care of the service.
All payments in Trix are cashless.

Always practice the five healthy habits. All together:
1 / Stay at home when you are sick.
2 / Cough or sneeze into the inside of your elbow.
3 / Use a new tissue paper each time and throw it away in a closed trash can.
4 / Don't shake hands or kiss.
5 / Wash your hands regularly.
/ I'M COMING TO A CONCERT
All Coronaproof concerts ('Pump Up The Jam') in the Trix Club and Trix Hall are seated.
We strongly recommend that you buy your tickets in advance and that in one order for a maximum of five people. By doing this you form a "bubble" together with your concert friends and are assigned fixed seats (row and seat number). After purchase, no more places can be added to your order or merged with another order.
Please arrive at Trix together with all the people from your bubble and have your tickets scanned at the outside ticket offices on the Noordersingel. When queuing, keep at least 1.5 meters away from other bubbles at all times and be sure to arrive on time.
At concerts in the Trix Zaal there will be separate time slots for checking in, depending on your seat (you will receive the time slot we expect you at Trix by email a few days before the concert). If concerts take place on the same day in the Trix Club and the Trix Hall, we work with split starting times. In this way we ensure a maximum spread of the arrival of our visitors.
Our lockers are not accessible for hygienic reasons. So don't bring too much stuff to Trix. You can store whatever you bring under your seat.
From the age of 12 you are obliged to wear a mouth mask in Trix, which means that you must also keep the mouth mask on during the concert. You can only turn it off to drink.
There are stewards present in Trix to accompany you to your seat within the outlined circulation plan. You will find your row and seat number on your concert ticket.
All "visitor bubbles" are located at least one meter apart in the hall (there is one seat free between bubbles). Currently, the maximum capacity in the Trix Zaal is 200 people, in the Trix Club it is a lot lower at about 90 (the exact number depends on the composition of the different bubbles).
Try to keep your trips in Trix during a concert evening to the absolute minimum. Do you still have to move and cannot guarantee the 1.5 meter distance? Then postpone your move.
People with a physical disability are guided to their place by our stewards via a separate route. Feel free to speak to the staff present about this.
After a concert, we ask you to sit until the lights come on again and follow further instructions from our stewards. Always keep a sufficient distance from other visitors when leaving the room.
/ I WANT TO REHEARSE
Also during rehearsals you keep a distance of 1.5 meters with your band members. For singers and musicians with blow instruments this will be 2 meters.
There is a maximum capacity in every room in Trix so that you can guarantee the distance. So don't come and rehearse with more people than this!
There are rehearsal rooms for a maximum of 3, 4 and 5 people. Do you rehearse with more people? Then we are forced to stop your rehearsal immediately and you will have to leave Trix. After multiple fouls, you will be banned from future rehearsals.
Is your band larger than 5 people and would you like to rehearse? Send an email in advance to info@trixonline.be, then we will see if we can free up another space in Trix for this.
The vocal installations and the permanent drum sets in the rehearsal rooms will be completely disinfected before your rehearsal starts. Please do bring your own vocal microphones!
/ I'M COMING TO A WORKSHOP
There is a maximum capacity in every room in Trix so that you can guarantee the distance. In the multimedia room this is 15 (which is usually lower for workshops). The chairs are always 1.5m away.
For music software workshops, your 'workstation' (computer, keyboard, computer mouse, midi controller) will be completely disinfected before the start of the workshop.
/ I BOOKED THE STUDIO
A maximum capacity is provided in the studio so that you can guarantee the distance: 4 in mixing room, 4 in recording room.
Microphones stay in the studio. The studio technician partly uses his own material, partly material from Trix. For singing microphones we provide a "microquarantine" (three days in quarantine after use).
The work surface and equipment in the control room can only be operated by the studio engineer
Do you have a question or comment about these measures? Do not hesitate to contact us via info@trixonline.be.
Thank you for respecting all these rules with us and see you soon in Trix!
Keep taking care ❤️